Rolf Harris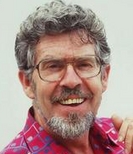 Biography
Aussie board-wobbler, painter, singer, animal-discusser and TV host, with a lively taste in shirts.
He was one of a number of famous people arrested as part of Operation Yewtree, the investigation into sexual offences in the entertainment industry set up following the posthumous revelations about Jimmy Savile, and in 2014 he was convicted of twelve counts of indecent assault on four girls aged between 7 and 19.
He died in May 2023, aged 93.
Trivia
His hit singles included Two Little Boys, which was the very last UK number one of the (ahem) swinging sixties, and an eccentric cover version of Stairway to Heaven. He claims that he performed his interpretation of the latter based solely on the sheet music, having never heard Led Zeppelin's original version. And you know what, we believe him. Another highly memorable song of his is "Jake The Peg" (with his extra leg) - Harris often performed this live, complete with the aforementioned additional limb.
He presented his own series, "Rolf Harris Cartoon Time", for some years, in which he drew the cartoon characters before showing the cartoons - and guess what? He'd constantly use his catchphrase, "Can you tell what it is yet?" throughout the programme.
One episode of "The Goodies", entitled 'Scatty Safari', showed the trio running a safari park that contained celebrities rather than animals and introducing Rolf Harris to the park, only to find that they were soon very worryingly overrun with Rolf Harrises all over the country. The Goodies piped (or rather didgereedoo'd), Pied Piper-style, the umpteen Rolfs off the scene (ie to ITV) except for one, who was lame (Jake The Peg, of course). Apparently, Rolf would have been more than happy to have appeared as himself in this episode, except that he was never asked, because the Goodies and their production team didn't think that he would, so instead we had actors playing his part. In retrospect... well, it probably doesn't make any difference since the concept alone would make it unbroadcastable now anyway.
He made a cameo appearance as himself alongside Nicholas Lyndhurst in the BBC's long-running 1990's comedy series "Goodnight Sweetheart".
His career was suddenly revived in the mid-1990's, when he started hosting and narrating "Animal Hospital" for the BBC (apparently on the personal recommendation of executive producer Lorraine Heggessey, a long-time Harris fan). His natural charm and personality and real interest in and empathy for the animals involved shone through at all times and proved a major hit with viewers. As a result, he went on to make a number of other animal-based series. Alongside "Animal Hospital", he also presented two series of a show entitled "Rolf's Amazing World of Animals", in which he and the show's roving reporter, Rosemarie Ford, met a number of animals and their owners (including some celebrities like John Cleese and Toyah Willcox) with intriguing stories, most of them acts of heroism. He also narrated a 2010 BBC wildlife documentary, "Penguin Island", focusing on the lives of the Little Penguins found in Australia.
He famously painted a portrait of the Queen for her 80th birthday.
In 2009 he was seen advertising a certain insurance company (complete with his trademark wobble-board, artwork, catchphrase and singing) alongside that nodding bulldog who usually likes to say, "Oh, yes!" (though not in this case). He also famously advertised the Stylophone in the late 1960s and early 1970s, and appeared in a public information film promoting the idea that children should learn to swim.
The Fellowship of the British Academy of Film and Televisual Arts (BAFTA, to everyone else) was bestowed on Rolf in 2012 but rescinded following his conviction in 2014.
Web links
Feedback