Sport Showdown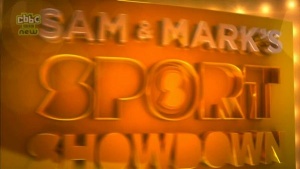 Host
Co-host
Conor McNamara (narrator)
Broadcast
CBBC, 26 September to 19 December 2014 (12 episodes in 1 series + 1 special)
Synopsis
Children and their families are given sporty things to do by Sam and Mark.
Families of four - two children and two adults - run onto the studio floor, while Conor McNamara commentates on their life so far.
Three family challenges take the bulk of the show. A sample episode featured a game of football where the players are in large plastic bubbles, some target archery, and basketball shots from a moving treadmill. Winning each round gives a one-second advantage in the final showdown.
Interspersed are two quiz rounds, selecting the correct answers from a grid of possibilities. An error concedes a half-second advantage in the showdown.
The showdown? A relay race involving all four members. One climbs a pole to retrieve a baton, the next goes through tunnels containing footballs, the third player pops balloons before the captain leaps over hurdles to victory.
Fabulous in the studio, Sport Showdown didn't translate to television well. The show lost its initial energy with a number of slow rounds in the middle. Spotting a dark arrow travel across a dark screen was an unusual choice. So was the "head-to-head" showdown, designed so opposing contenders were rarely in the same shot. Gladiators solved this in the 1990s, building its Eliminator couse so that the contenders were next to each other.
Title music
Mathieu Karsenti is credited for "music".
Web links
See also
Feedback