Star Boot Sale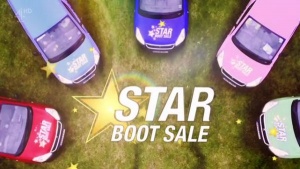 Host
Narrator: Shane Richie
Broadcast
Boomerang and Motion Content Group for Channel 4, 19 March to 13 April 2018 (20 episodes in 1 series)
Synopsis
Celebrities sell their unwanted items and memorabilia at car boot sales around the country. All proceeds going to their favourite charities.
Each day's show starts with the celebrity going around their house, picking out things they could sell at a car boot sale. They load up the van, drive to the location, and start to sell stuff.
The competition is minimal: whoever makes the most money each week will get an extra £1000 for their charity. The atmosphere is similarly low-key, competitors help each other out, because it's all in a good cause.
Trivia
The series aired at 5.30 on weekdays, and it provided an alternative to The Chase and Pointless.
Web links
See also
Clutter Nutters, an earlier game show with a similar premise
Feedback