The Cabins
Host
Maisie Adam (voiceover)
The Reunion:
David Potts (both episodes)
Clara Amfo (2021)
Yasmin Evans (2022)
Broadcast
12 Yard for ITV2, 4 January 2021 to 22 January 2022 (33 episodes in 2 series)
Synopsis
An ITV press release said,
Our cast of singles will be throwing out the rule book and deleting their dating apps as they attempt to find true love. From the moment they meet the couples immediately move in together, as their date begins in their very own exclusive log cabins, complete with simmering hot tubs and set in beautiful surroundings.
Nestled together in their intimate cabins, the singletons will have quality time to really get to know their date. From heartfelt moments or declarations of love, to awkward silences and difficult dating conversations, viewers will be able to follow all the antics and find out if the sparks fly or quickly fizzle out.
Having made it through the first 24 hours they then have to decide if they would like to spend more time together - or call it a day and walk away.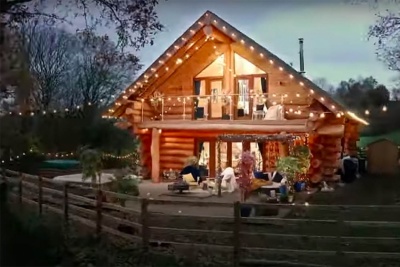 ITV released glamour shots of the cabins.
The series was pre-recorded. It aired in the January slot previously used for Love Island.
If you can help us to expand this entry, please provide as much information as possible, using the feedback form below.
Inventor
A localised version of ITV Studios' format Let Love Rule, which is huge on Dutch channel SBS6.
Feedback