The Debbie King Show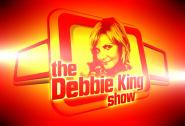 Host
Broadcast
Hamma + Glamma Productions for ITV Play, 5 March 2007
Synopsis
When the history of participation television is written, this programme will probably live in infamy. Former Quizmania surpremo Debbie King was given her own show on the controversial ITV Play channel, in which she promised to provide a satirical look at the news from the UK and further away (although honestly, we've seen games on QM that have been far more topical) as well as a chance for viewers to become part of their newsteam - or in other words, inviting viewers to text in and talk about anything that happened to them during the day. Other than that, it was just another premium-rate phone in quiz, I'm afraid.
The programme launched at 10:00pm on Monday 5th March 2007 in a blaze of publicity (well, an interview at 3am in the morning on TalkSport). Earlier that day, it was announced that ITV Play would suspend transmission whilst the audit into ITV's premium-rate phone services was being carried out. Nevertheless, ITV agreed that they should push on with the launch regardless. However, as things turned out to be for ITV Play, the first programme was also the last - which probably makes The Debbie King Show one of the shortest-lived series in the history of British television.
Quite why they decided to go ahead with the launch of the show is something we'll never know. Online Debbie fans have addressed their apparent disgust, claiming that Miss King was treated badly by ITV. But obviously, everyone involved with this flop has never heard of the phrase: Don't start something that you can't finish.
Key moment
Ironically, at the end of the show, Debbie was cut off by the end credits as she said goodnight.
Catchphrases
"You've got it, baby!"
"Breaking news, making winners"
Trivia
The studio production team included former Quizmania camera operators, Neil Horseman and Olie Frappe.
Had the programme managed to survive a second episode and beyond, we would have seen the Debster joined by a few co-presenters and guests.
Feedback