The Whole 19 Yards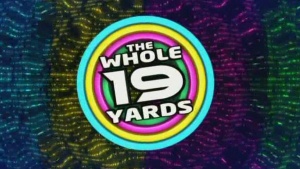 Host
Co-hosts
Games Guru: Caroline Flack
Commentator: Glenn Hugill
Broadcast
Initial for ITV1, 17 April to 5 June 2010 (8 episodes in 1 series)
Synopsis
Four contestants are read a series of clues leading them to an answer. However knowing the answer isn't good enough, as once they think they know, they must work their way through 19 yards of obstacles to press their button before they can answer. The first contestant to do so progresses to the next round, while the others have to try again, with the last person to complete the obstacle course, and provide a correctly answer being eliminated. Two more contestants are eliminated in subsequent rounds, before the last remaining contestant competes in the end game, with the chance of pocketing up to £100,000.
If you can help us to expand this entry, please provide as much information as possible, using the feedback form below.
Catchphrases
'When you know, you go'
Theme music
Jess Bailey and Graeme Perkins
Trivia
There are six questions in each stack. It has happened that someone didn't know ANY of them (or at least claimed not to know - possibly they were just conserving energy).
Originally piloted by CBS in the United States.
Recorded at Pinewood Studios.
ITV's first game show to be broadcast in high definition.
Web links
See also
Feedback