Weaver's Week 2019-04-21
Last week | Weaver's Week Index | Next week
This week, some astounding buzzer work in Salford and in California, a close match in Cardiff, and Paddy McGuinness hopes to catch up with us.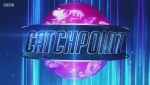 Possessed and 12 Yard for BBC1, from 23 March
For some years, BBC1 has tried to make a hit family game show on Saturday nights. That Puppet Game Show didn't hit the mark. Len Goodman's Partners in Rhyme appealed to six-year-olds and sixty-six year olds, but no-one between. We thought The Time it Takes was a fabulous show, but not many people agreed. The latest in the series is Catchpoint, with television's famous Paddy McGuinness.
Teams of two play, because it's still 2019, and almost every show involves teams of two. They'll face a series of questions, with more money for each.
Ten video screens on the backdrop display ten answers. They're arranged in a sensible order – smallest to largest, oldest to newest. Paddy describes what's on each screen, then asks a question.
Our players debate amongst themselves, and select one of the answers as their "catch point". One of them will stand beneath that answer, and a ball drops from the correct answer. The aim of the game is to catch the ball, and bank the money.
Of course, the player might not have got the question right. They might need to dart left or right to catch the ball, perhaps make a fairly hefty lunge for it. There's a little bit of physical action in this show, enhanced by replays and slow-motion action.
First question is for £250, the next question has a smaller ball and is a bit more difficult and is for £500. Then another team take their place. A second round of questions sees a ball drop from every answer, all blue except the right answer is pink; £750 and £1000 for these questions.
The final competitive round features a single set of answers, usually something generic like a map of the world. 45 seconds of questions and drops, with £300 for each correct answer. The teams don't play in each other's questions, or influence each other in any way – except that the leaders going into the final round pick from two broad categories.
The point of Catchpoint is the catch, and there are plenty of balls dropped during the show. This is a good thing. While the main game is in progress, we're never more than a minute from a drop. They've learned from the success of Tipping Point, use your titular gimmick as much as you can.
Sadly, there are a few metaphorical balls dropped, too. Paddy explains the picture questions, every single one of them, in detail. He drags on just a beat longer than he might. While the chat with the contestants is mercifully brief, the explanations feel even longer. There isn't a particular urgency to the early stages of the game.
We're not convinced by some of the camera angles: from time to time, we see the contestant at an angle as they stand in front of their answer. While the gold outline of their catch point is helpful, it's no substitute for a head-on shot.
After both teams have had their timed round, we have a winner. That team will take part in the final round, one final question with a single answer. There's a great faff of selecting their catch point, turning off the lights one by one until only the chosen response remains.
Then there's a decision. Do the team take the money they've won in the main game – usually around £2500, a decent amount – or play this question for £10,000. Should the ball drop to the floor, they'll leave with nothing. Are they confident in their answer? Do they think the risk is worth it?
As well as the slow selection of the catch point, the final round can offer a nothing ending. When the team chooses not to play the question, that's it, the show is over. They don't play the final question with the other team, or have Paddy play for charity (or the fun of it).
Paddy McGuinness isn't the star of the show, it's the dropping balls. He has limited opportunities to build up a rapport, and still manages to make running jokes through the episodes. We'll discuss another master of this art, Steven Mulhern, in a couple of weeks.
The questions are tricky, but can be worked out. We didn't know that the gestation of a donkey was one year, but we could make a very decent guess from the options available – and on Catchpoint, an almost-right answer might be good enough.
We do appreciate a semi-ordered list of answers, it was the subtle hallmark of Secret Fortune at the start of the decade. Just like Secret Fortune, the closer you are to the right answer, the better your chance of bagging a good prize – one off the answer means the ball can be caught, or the second-best envelope picked.
Overall, we like Catchpoint. There are some little things they might like to address – in particular, the non-ending – but these are tweaks to put the icing on the cake. It's yet another hit from Possessed, an imprint that has yet to make a show we didn't like.
From time to time, University Challenge throws up some star players. Monkman and Seagull, Hannah Woods, Alex Guttenplan, Gail Trimble. All captured the media's imagination – for a few weeks, at least – before passing into retrospective pieces about University Challenge in recent years.
This year's tournament hasn't thrown up such big characters. It's had two strong buzzers, both captains of their respective teams. Freddy Leo for St Edmund Hall Oxford, and Jason Golfinos for Darwin Cambridge. The teams win easily when their captains buzz well, and seem to struggle when their captain falls short.
As if to prove our point, the first right answer comes from Marceline Bresson of St Edmund Hall Oxford (the team: Agastya Pisharody, Marceline Bresson, Freddy Leo, Lizzie Fry). They beat themselves up for letting a single bonus slip. Jason Golfinos hits for Darwin Cambridge (team: Stuart MacPherson, Chris Davis, Jason Golfinos, Guy Mulley), and the team scores on words from Hamlet's soliloquy.
After just three starters, we're into the first picture round. Even by University Challenge standards, that's very early. Have they chopped out lots of questions the teams didn't know, so we can see a buzzer race when the clock's in the red? Anyway, biological substances fall to Freddie Leo, and it's 40-40.
Punchcards and perfumes give St Edmund Hall a big lead, and induce Jason Golfinos to make a missignal interruption. That's big: five points off the Darwin lead, and St Edmund Hall get to hear the whole question – and score with the bonuses about famous départements.
Freddie Leo can push his buzzer all he likes, when he's been beaten by Guy Mulley, it won't sound and he won't be called. When he isn't beaten – as in the identification of JS Bach – it will sound. St Edmund Hall get the music bonuses, tell Paxman to go "Orff", and lead 115-45.
There's a starter and set for each captain, then Jason Golfinos wins the race to shout "Imam" and secure bonuses on nucleic acids. Pictures of writers is earned by the Darwin team, who comment "I don't look at pictures of them, I just read their books." It's still to St Edmund Hall's advantage, but only 140-95.
The galactic standard supernova goes for Jason Golfinos. A medicine made from mercury is taken by Agastya Pisharody, helping to calm a few nerves on the top deck. But another answer from Jason Golfinos earns Darwin some easy bonuses on football teams sharing their name with classical mythology. The Yangtze river earns Jason Golfinos a bonus set on Afra Benn, but just one score.
This feels like a one-starter shootout. Stuart MacPherson buzzes, errs, and Freddy Leo picks up the slack. There's time for just one bonus, and St Edmund Hall win the match, 165-140. High fives for the winners, animated discussions for the losers. Jason Golfinos won the battle of the starters, 8-6, but St Edmunds' Hall won it on the bonus rate (15/25 against 12/27).
Ahum. And OC
Second semi-final in Cardiff, where Dicers (George Corfield, Joey Goldman, Hugh Binnie) took on Ancient Alumni (Lindsay McBrian, Ailsa Watson, Dave McBryan). Rather felt that the Alumni were going to go big on the taxonomical names of Beatrix Potter characters, but they only took a point.
Dicers were a little unlucky not to get temperaments influenced by planets, they offered "Monday's child is fair of face", certainly in the right ball park. Their answer would have been correct for Seulement Joindre, the francophone version we've just made up.
No-one was near the picture clue about Sherlock Holmes, no-one was near the music clue about singing Princes, where Rogers Nelson bumped shoulders with Andrew Windsor. Dicers scored on numbers you can make from "2, 4, 7", but the Alumni hit two from phrases like "Turkish delight" but translated into Turkish. Welcome to Only Connect. 3-1 to the Alumni.
Dicers kick off Sequences with two on films set in the largest American cities, then score three on the flightpaths of the QWERTY keyboard. The explanation is so dull it makes Victoria pine for the Kampuchean Moth.
Alumni hit back with three on complex definitions of quad, triple, double, single. Dicers strike with the hydrocarbon prefixes and score three for their pains. We all suffer through the teams talking through "Five green bottles", and it's 9-6 to Dicers.
There's no stopping the Alumni on the wall, they solve sets including League of Gentlemen characters and "they begin with body parts". There's no stopping Dicers, either, with Mozart symphonies and famous Trojans. It's 19-16.
Missing Vowels looks like it's breaking to Dicers, 3-1 on countries and their national animal. But they're wrong to say QI is from Denmark, and that seems to take the wind out of their sales. Alumni get five in a row, and time expires.
22-22, match drawn. This is fine for match results, rubbish in a knockout quiz, where someone has to be knocked out. After the captains' tiebreak, Dicers say "You win some, you lose some", and advance to the final.
This Week and Next
Another week, another one-day record on Jeopardy!. James Holzhauer, a professional sports gambler from Las Vegas, took Wednesday's edition by the horns and won $131,127 (€116 336). It breaks the record he set just last week, and eclipses the biggest win by a team of civilian players on The Chase.
James has an outstanding quiz brain, and the courage to make big bets when he can. Most importantly, he's perfected his reactions to buzz in at just the right moment. He's honed his skills on Jeopardy!, so every match feels a home match. The result is like a University Challenge team of excellent buzzers – Golfinos, Monkman, Guttenplan, and Trimble – in a buzzer quiz against the best four on ITV's physical challenge Ninja Warrior. The result is not in doubt, and we can only be awed by the brilliance.
BARB ratings in the week to 7 April.
Line of Duty remains television's top show (BBC1, Sun, 10.302m). This Territory's Got Talent is only just behind (ITV, Sat, 10.299m).
The Voice finished on ITV (Sat, 5.35m), as did Celebrity Bake Off (C4, Tue, 4.6m). Have I Got News for You returned (BBC1, Fri, 4.4m).
Two series finished on BBC2: Sewing Bee (Tue, 3.8m) and Race Across the World (Sun, 3.3m). The University Challenge Boat Races (BBC1, Sun, 2.9m) were more popular than the quiz (BBC2, Mon, 2.4m).
Channel 5 returned to the game show market: Blind Date (Sun) had 750,000, but only 545,000 for Celebrity Game Night (Fri) and the documentary TV Talent Shows at War (Sun).
Top on the new channels was Stephen Mulhern's Got More Talent (ITV2, Sat, 890,000), followed by Celebrity Juice (ITV2, Thu, 640,000) and Portrait Artist of the Year (Artsworld, Tue, 390,000). Tip of the hat to Comedy Central, whose Celebrity Blockbusters pulled 310,000 (Thu).
If you're dodging sunburn this week, enjoy !mpossible. Rick Edwards brings the quiz back to daytime on BBC1 weekdays. New episodes of Eggheads (BBC2, weekdays). My Kitchen Rules Down Under is new to Challenge (from Tue).
It's the University Challenge final (BBC2, Tue), also the end of Glow Up (BBC II! on BBC1, Wed), and The Big Painting Challenge Celebrities (BBC1, Thu).
Photo credits: Possessed / 12 Yard, Cwmni Da, Sony / CBS.
To have Weaver's Week emailed to you on publication day, receive our exclusive TV roundup of the game shows in the week ahead, and chat to other ukgameshows.com readers, sign up to our Yahoo! Group.