Beat the Brain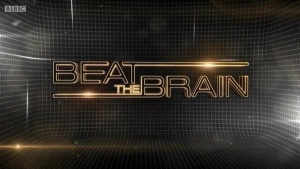 Host
Co-host
"The Brain" (performed by Josie Lawrence)
Broadcast
Objective Productions and Over the Top Productions for BBC Two, 11 May to 22 June 2015 (30 episodes in 1 series)
Synopsis
Teams of four take on challenges that involve different parts of the brain.
Six different aspects of brain power, to be precise. Logic, observation, multi-tasking, orientation, language, and memory. Four of these six areas will be tested in each show.
The tasks are all visual responses: memorise a pattern of coloured lights, spell a word backwards, or work out which of these are left hands and which are right hands.
Players are gently welcomed by the host, might get to banter with The Brain, and warm up with an example question from The Brain. This helps understand what the challenge is about.
Each team-member will take one zone, in which there are two different challenges. Each challenge has three parts, and each part correctly answered earns three seconds to the "brain bank".
After four rounds, the team will have some seconds - typically 30-60 seconds. The time they earned is free, and if each player can answer two questions correctly in the time, they'll win £3000. After that time, the jackpot starts to drop, at £25 per second. After two further minutes, the money is exhausted and the team leaves with nothing.
Challenges in the final come from the games seen already seen, so there's no need to explain very much. The players take the questions, answer them as quickly as possible, and hope to win money. Most shows end with a decent climax: even with 30 seconds to go and three questions remaining, there's still hope that there might be some money won.
Two particular highlights from this show. First, the character of The Brain is fully-formed, Josie Lawrence voices it live, with sharp and witty ripostes to the contestants. Also, the questions are also a cut above the normal trivia questions. Not only are they not trivia, we found them easy to follow and sufficiently challenging to force the viewer to play along.
Theme music
Marc Sylvan
Trivia
The hands above are left, left, right.
Catchphrases
(Craven): "...But, as I always say on this programme, different games for different brains..."
"Well, now it's time for you to beat the Brain one last time and win some serious cash - in the final".
"...But now it's time to get serious - over to you, Brain".
(The Brain): "...You can have as many guesses as you like, but I will not move onto the next question until you give me the correct answer or pass..."
"In the final, you'll only face games that you've played in the previous rounds, but remember that in this round, I can only accept your first answer..."
Web links
See also
Beat the Brains is a segment in the long-running radio quiz Brain of Britain.
Feedback