John Craven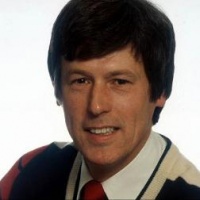 Biography
Born in Leeds in 1940, John Craven started out as a print journalist, then moved to presenting regional television news (including appearing occasionally on Nationwide), but is best known for two long-running TV series: the pioneering children's news programme John Craven's Newsround, which he presented from 1972 to 1989, also acting as editor in the later years, and rural affairs series Countryfile since 1988. He was also one of Noel Edmonds' Swap Shop sidekicks and one of Mike Read's sidekicks on its successor, Saturday Superstore.
Trivia
John came up with the idea for John Craven's Newsround partly as a result of having found out that few, if any, kids watched the news, because they found it boring and irrelevant and didn't like being told to be quiet while their parents were watching it. Once Newsround got into its stride, the kids apparently really latched onto the easier, more digestible style of the programme and John's much more relaxed and avuncular approach and less formal style of dressing - he usually wore a jumper. John also once stated that Newsround enabled the kids to discuss items in the news with their parents more readily and that the more "heavyweight" journalists, such as John Humphrys, Michael Buerk and the late Bob Friend, were often pleased to report for Newsround, because they gained considerably more street cred with their kids from that show than from presenting the adult news.
John hosted the vast majority of the Newsround programmes, but he had to miss one edition in 1972, because his wife was giving birth to one of their daughters, so Richard Whitmore sat in for him and was able to give the viewers the good news, having only just spoken to John on the phone. Contrary to popular belief, however, that was not the only edition of the programme that John did not present - in later years, he had several holiday stand-ins and co-presenters, including Paul McDowell, Lucy Mathen, Howard Stableford, the late and much-missed Helen Rollason, Roger Finn and Terry Baddoo. Following John's departure, presenters have included Krishnan Guru-Murthy, Juliet Morris, Julie Etchingham, Paul Welch and Chris Rogers, proving that quite a few well-known TV presenters and newsreaders have cut their broadcasting teeth on Newsround.
He was the first newsreader to have his own name in the programme's title - and the first one to be allowed to read the news without wearing a tie - although the BBC's hierarchy was not originally keen on the latter idea.
He claims to have invented the phrase "And Finally...", followed by the inevitable funny story, but News At Ten claim that they did it first! He also has a friendly vendetta with Five News, who claim that they were the first British news programme whereby the presenter did not sit behind a desk - Craven argues that he and his colleagues were sitting in front of or next to desks many years earlier! He apparently had the constant problem that his papers would slide off his lap while he was reading the news.
Contact
c/o Jo Carlton, Talent4Media, Studio LG16, Shepherds Building Central, Charecroft Way, London W14 0EH
Web links
Feedback