Mike Read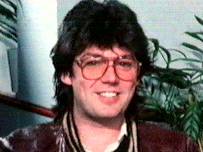 Biography
Classic-era Radio 1 DJ and Top Of The Pops and Saturday Superstore presenter. Saddled with a rather cosy image, he is also forever known as the man who banned "Relax" - a little unfairly, wethinks. He was also of course co-founder of the quiz-setter's friend, the Guinness Book Of British Hit Singles, and has written numerous other books in his own right. He has also been a presenter on Classic FM in recent years.
Trivia
In 2004, Read's musical about the life of Oscar Wilde was revived to celebrate his 150th anniversary... and promptly closed after just one night.
Not to be confused with Runaround host, the late Mike Reid.
Books / Tapes
Read's Musical Reciter (book)
Major to Minor: The Rise and Fall of the Songwriter (book)
Web links
Wikipedia entry (and a more feasible version)
Feedback