BingoLotto
Host
Joe Pasquale & Suzanne Shaw (2008)
Ulrika Jonsson (2009)
Broadcast
Spun Gold for Intelligent Gaming Solutions (UK), aired on Virgin1 and Challenge 29 February - 4 April 2008 (6 episodes), also Virgin1, 13 September - 4 October 2009 (4 episodes)
Synopsis
Sweden has sent us many great cultural institutions over the years. ABBA, they were Swedish, and they were great. Ulrika Jonsson, she's Swedish, and she's certainly appeared on a lot of television shows. BingoLotto? Well, it's Swedish...
The basic part of this game is simple. Punters go to their local shop, and ask for a ticket for that week. The shopkeeper exchanges a ticket for two quid, and reminds the viewer to tune into the digital channel that will be airing the live broadcast on Friday night.
On that broadcast, Suzanne Shaw will read out three strings of 15 numbers, all between 1 and 50. Each number appears somewhere on the game card, and if the player can mark off four corners, they win a free card for a future draw. Mark off a line, they'll win ten pounds, and become eligible to call a premium-rate number where they could win something entirely decent.
That's barely enough to fill a teaspoon, never mind an hour-long show, so there are other draws based on all or some of the unique game card number, and three members of the public get to compete for the honour of spinning a wheel and potentially winning a six-figure sum of money. Prizes range through cars, holidays, clothes, furniture, hi-fi systems, down to that free entry for a future draw.
BingoLotto (the game organiser) isn't aiming to change anyone's life, and this ethos shows in BingoLotto (the programme). It has very limited ambitions, to provide a lightweight hour of moderately entertaining fluff, and succeeds admirably.
After an absence of nearly 18 months, BingoLotto made a somewhat unexpected return in September 2009, with the game being played much the same as before. The host for this second series was none other than Ulrika Jonsson, which is a somewhat bizarre turn of events given the intro further up which was written around the time the programme first aired in February 2008. Premonition or random coincidence? You decide.
Inventor
Based on a Swedish format.
Trivia
The formal title for this show is Bingolotto: A Commercial Presentation; it is made in its entirity by game promoters IGS (UK), and runs without commercial breaks. Instead, viewers are offered the chance to purchase some of the prizes.
The game's mascot was Mr Bing the bingo card. He was born at 7 minutes past 7 on the 07/07/77 weighing 7lbs and 7 ounces.
Web links
The show's website was www.bingolotto.tv. Don't bother, it's long fallen off the interwebs.
Pictures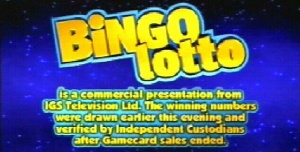 This disclaimer is read out three times during each broadcast
See also
Feedback