Joe Pasquale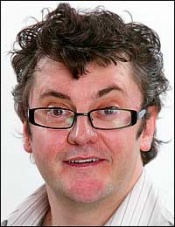 Biography
Essex-born comedian known for his squeaky voice and general silliness. After leaving school at 15 he had a succession of short-lived jobs before becoming an entertainer (and later Ents Manager) with Butlin's. In 1987 he appeared on New Faces, which helped him on his way to becoming one of the most popular live stand-ups in the country.
In 2006, he took on the role of The Price is Right ringmaster in a relatively surefooted manner. More recently, he has been regularly heard as the voice of the (not so) underdog in a series of National Accident Helpline adverts.
Trivia
Turned up in a very entertaining episode of Doctors in March 2020, where a patient thought everyone she met was Pasquale.
Contact
International Artistes Limited, 4th Floor, Holborn Hall, 193-197 High Holborn, London, WC1V 7BD
Web links
Feedback