Brwydr y Fwydlen
Host
Broadcast
S4C, 8 November to 13 December 2012 (6 episodes in 1 series)
Synopsis
Cookery competition. Three teenage cooks are taken to a restaurant where they attempt to impress the head chef with their dishes. The winning dish will go on the menu.
If you can help us to expand this entry, please provide as much information as possible, using the feedback form below.
Pictures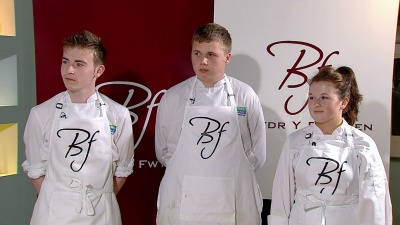 Contestants in their branded aprons.
The host with her branded backdrop thingummy.
Feedback