Crisis Control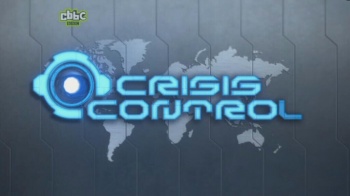 Host
The Commander: Garry Robson
Co-hosts
James G Fain - "Max"
Lynn Blades - "Global News" newsreader
Karen Hayley - "The Voice" (voice-over)
Other regular cast includes Naomi Cortes, Nicolas Colicos, Cheska Moon, Tim Versteegen, Annabel Wright
Broadcast
CBBC, 2 January to 27 March 2009 (13 episodes in 1 series)
Synopsis
The tenor of this show is set from its opening sequence, in which children are spirited away, as if they were superheroes, from their normal existence to form part of the Crisis Control team. The theme tune is something that all the '80s computer game music wanted to be when it grew up, with a Morse code beat over the top.
The Commander (Garry Robson) presides from his wheelchair. He's an authority figure, telling the players where they were right and where they were wrong, but he's also supportive of his cadets. It's in the same territory as Raven. (Older viewers might remember The Murder Game's DI Bob Taylor, but probably won't. Their loss.) "Global News" pops up from time to time with credible fake news bulletins and there's a lot of attractive fake footage and simulations of what the show's crises might look like. It's all surprisingly convincing.
"Science Officer Max" gives the actual science behind the real-life crisis depicted, emoting concern through heavy use of The People's Eyebrow. The show very quietly teaches actual science (and actual citizenship) to its viewers. It's a great way of meeting the BBC's Charter commitments, and in a less obvious way than the recent Blast Lab or Election managed. A member of the CBBC Rep Theatre lays on an appropriate silly foreign accent to detail the week's crisis, and ask the teams for their help, with additional detail given by a slightly robotic female voice-over.
The game show content is not the most advanced; two computer puzzle games, usually sorting out priorities or guiding aircraft. It's the style that one might play in Flash on a web site, but with plenty of play-along value for the viewer at home. The "which of these should take the highest priority?" games offer something a little different and a little conversational. Then the teams go out onto a disused car park to play a physical game. Depending on the show, it combines elements from all, some, or fewer of Scavengers, Scrapheap Challenge, Why Don't You, We are the Champions, and quite probably It's a Knockout.
The Commander awards stars to the teams based on their decisions. Winning team at the end of each show get Crisis Control's highest reward, the Golden Emblems. Runners-up get Silver Emblems. It's a show where the reward comes from the taking part, not the prize.
Web links
See also
Feedback