It's a Knockout
Host
MacDonald Hobley (1966)
David Vine (1967-71)
Stuart Hall (1972-88, 1993-4)
Brian Cant (joint-hosted GB heat of JSF in 1982)
Vince Hill (unaired 1982 Xmas special)
Rowan Atkinson as Lord Knock (1987: The Grand Knockout Tournament)
Bernie Clifton (1990: It's a Telethon Knockout)
Welsh version (as Gemau Heb Ffiniau): Iestyn Garlick and Nia Chiswell (1991-4)
Keith Chegwin and Lucy Alexander (1999-2001)
Co-hosts
Ted Ray and Charlie Chester (1966)
MacDonald Hobley (1967)
Katie Boyle (1968)
Eddie Waring (1969-81) (judge, later commentator too)
Arthur Ellis (1969-82) (referee)
Paul Shane, Ruth Madoc and Su Pollard (stand-ins for Eddie Waring for an episode in 1981)
Guest co-hosts (in order): Sarah Greene, Peter Duncan, Simon Groom, Maggie Philbin, Keith Chegwin, Floella Benjamin, Brian Cant, Stu Francis, The Krankies, Bill Owen, Kathy Staff, Tom O'Connor and Frazer Hines (1982)
The Grand Knockout Tournament: Stuart Hall, Les Dawson and Su Pollard (commentators), Paul Daniels (judge), HRH The Duke of Gloucester, The Duke of Abercorne, The Duke of Roxburghe and The Duke of Westminster (referees) and Geoff Capes (scorekeeper)
Frank Bruno (1999-2001) (referee)
Nell McAndrew (1999-2001) (scorekeeper)
Broadcast
BBC1, 7 August 1966 to 29 August 1983 (113 episodes in 17 series + 17 specials)
Jeux Sans Frontieres: BBC1, 14 June 1967 to 28 December 1984 (126 episodes in 16 series + 14 specials & 1 unaired)
The Grand Knockout Tournament: Knockout Limited for BBC1, 19 June 1987
It's A Charity Knockout From Walt Disney World: BBC1, 25 December 1988
TVS for ITV, 28 May 1990 (as part of Telethon '90)
JSF: S4C, 3 August 1991 to 24 December 1994 (44 episodes in 4 series + 1 special) (English language dub on The Family Channel, 1993-4)
Ronin TV for Channel 5, 3 September 1999 to 6 January 2001 (24 episodes in 2 series)
Synopsis
Channel 5 were extremely shrewd in buying the rights to Fort Boyard, which picked up the old The Crystal Maze audience.
However, then they also spotted the opportunity of reviving this 1966 vintage classic, although really it was at its most popular during the 1970s.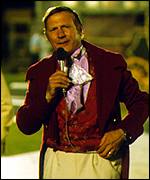 UK host and commentator, Stuart Hall
It's a Knockout was the UK version of the pan-European project Jeux Sans Frontières ("Games Without Borders") which was initiated by none other than Charles de Gaulle. The winners of our version went on to represent this esteemed land abroad. Three local teams appeared in the UK show, with around 6 to 8 countries competing in the European finals.
The European version of the programme consists of a range of different games, each team sitting out from one each. There is also an on-going event, the Marathon ("Fil Rouge" in European), which is a short game played by the omitted team in-between the main games. Thus, when we get to the end game, everyone will have competed once in the Marathon and in all the games but one. The final game is then played.
Points are scored on a kind of Formula 1 basis, although playing your joker on your best game gave you a fighting chance of getting double points.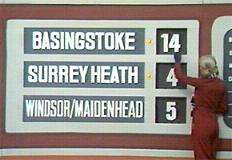 A scoreboard from an early UK show
The real selling point of the international show is that by getting many of the broadcasters to chip in, exceptionally lavish sets and games can be constructed. This is all orchestrated by European Broadcasting Union (EBU), a collection of public broadcasting organisations.
The UK show wasn't quite such a success, until Stuart "As A Hatter" Hall came on the scene to provide the real high point of the show - the hosting and commentary that he provided for many a year (or, in some cases, lack of commentary because he was so busy laughing so much).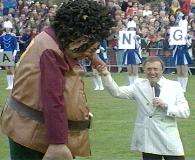 Stuart Hall with a giant... er, giant
The laughter came from the games that were often brilliantly inventive. Bungee runs, greasy poles, water slides, turntables, huge costumes and gunge would all be used to full-on effect.
The games in the UK version were somewhat more modest and rather more dangerous - one included a competition to see who could stand on the highest tower of milk crates.
The BBC entered teams between 1967 and 1982, but the series fizzled out - a special programme, recorded for broadcast over Christmas 1982 was never aired, with poorly-designed games and cheap props ensuring the show was so poor the BBC couldn't show it.
Jeux Sans Frontieres was revived in 1988, and ran until 1999. Welsh broadcaster S4C entered teams between 1991 and 1994.
All change, please
Surprisingly (perhaps), Channel 5 bought the show bang up to date for the Nineties audience in 1999. Now, as you may have guessed by now, five have got big ambitions when it comes to classic and proven successful interesting game shows (see Fort Boyard and The Desert Forges) Hosted by Keith Chegwin (who went on to do the actually quite similar Naked Jungle), Frank Bruno, Lucy Alexander and 'the actual real Lara Croft (provided Lara Croft changes to Nell McAndrew),' Nell McAndrew, It's A Knockout got a huge audience when it started for Channel 5, the first episode bringing in almost 2.5 million viewers.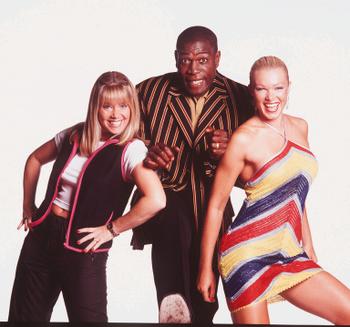 It's a Knockout: The New Class
Sadly, a lot of those viewers turned off in the coming weeks and by the Final it was attracting about 20% of that. Perhaps it was a shame but at the same time, perhaps it wasn't. Great as It's a Knockout was, it is a show regularly seen through rose-tinted glasses and the Nineties audience perhaps wanted more of an edge.
What may have made it good would be to have winning teams go into the Jeux Sans Frontieres European finals like they did when it was first on. That way, William Hague could have made more of a point of "being in Europe, but not ruled by Europe" perhaps. Still, if that did happen, we'd STILL be useless at it.
Series 2 review
New year, new timeslot (Saturday evenings now) but sadly not the two and a half million viewers it was getting for it's first episode. Which is a shame because this series was a lot better than the last series. Here's why.
First they did away with the mini-marathon, instead there was now a three team game in between all the two team games. Two team games were now worth two points and one point so teams tended to save the Jokers for the three team game. There was less faffing around at the start. There was the excellence of an on screen clock and score counter for games that required it because in the last series the games seemed to go on forever, now they were a lot more enjoyable when you knew that they going to come to an end (if you see what we mean). The turntable was now split in the middle so it could revolve around in two directions simultaneously.
But the biggest change of all was that the new games were a lot more inventive and a lot more, well, fun. Instead of the endless versions of "try and knock the bloke carrying something into the water using giant punchbags" now it was "throw coconuts at the person swinging across the water on rings" or "throw water into the makeshift tarpaulin boat in order to sink it whilst they're trying to do it". There was also good use of a huge construction frame so players could be hoisted up by the rest of the team, or their special new bounce pole. They now had a gut-wrenching new "back-and-forth-swinging-ducking-stool-thing" (name copyright UK Game Show Page 2000).
And we hadn't laughed quite as much until we saw these people trying to sprint onto the turntable with ice creams, trying to pick up a flake in the middle then trying to sprint off again without breaking a leg because it was all done at high-speed. It was hardly intellectual but was good fun.
Perhaps one of the reasons for this spate of greatness was that we noticed that the series was now being made in association with a French company (who may or may not be responsible for Intervilles, the French version of Knockout - with a live Bull! - in France). It's just a shame that the viewing figures weren't as great as they could have been, and this was to be the final series.
Key moments
The oft-repeated Penguins game from Aix-Les-Bains, France in 1974 - arguably, Stuart Hall's most famous commentary of all.
In a nothing-short-of-bizarre twist, the Royal Family took part in a special Grand Knockout Tournament in 1987. Although they did not take part in the games themselves, they were the team captains. Each member of the family represented a different charity. Princess Anne's team (representing Save The Children) won the game - and it was that same year that Anne famously appeared on A Question of Sport. Many years later, Weaver's Week reviewed the show.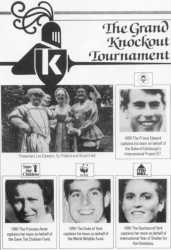 Promotional flyer for the Royal version of It's a Knockout.
An international It's a Knockout was staged at Disneyworld in 1988, in support of the Children in Need appeal, and broadcast at midday on Christmas Day. Teams from the United Kingdom and Australia narrowly beat the USA.
In the Channel 5 version, Keith Chegwin broke his leg filming an intro to one episode in series two and had to spend the rest of the series commentating from his hospital bed. As we remember, he made it to the grand final spending the show in a golf buggy.
Catchphrases
"And here come the Belgians!"
Inventor
Based on the French format Intervilles, devised by Guy Lux in 1962.
Theme music
Bean Bag by Herb Alpert & Tijuana Brass
Trivia
Several years ago ex-Genesis bloke Peter Gabriel released the song Games Without Frontièrs which uses the show as a metaphor for anti-war and anti-nationalism. The song got into the UK Top 10 and the US Top 40 (which is a little odd given that Americans wouldn't get the metaphor). Jeux Sans Frontières is therefore one of the few game shows to have a song about it released.
One to file under "mistakes to learn from" with a cross-reference to "they really should have seen that coming": the very first episode was broadcast live and included a three-legged football match on the beach at Morecambe, which had to be abandoned because – yes! – the tide came in.
TV Brain tells us that very few of the earlier episodes from 1966 to 1968 exist in the BBC archives because they were all transmitted live, but a handful of them did survive including the last 23 minutes of a 1967 episode and 4 complete episodes from 1968. The show switched to being pre-recorded in 1969, but even then, almost all of the episodes from 1969 to 1974 were subsequently wiped from the BBC archives, with only 8 episodes from that period surviving.
Referee Arthur Ellis was one of the original members of the Pools Panel when it was set up in 1963.
The Welsh version (Gemau Heb Ffiniau) was sold to The Family Channel and repackaged with new commentaries by Stuart Hall replacing presenters Iestyn Garlick and Nia Chiswell who doubled up as commentators in the original.
Home locations for Welsh heats:
1991: Padarn Park, Llanberis, Gwynedd (heats 5 and 10)
1992: Morfa Stadium, Swansea (heats 7 and 10)
1993: Boddlewyddan Castle, Denbighshire (heats 1 and 6)
1994: Cardiff (25th series anniversary special)
For it's final outing, S4C staged a Christmas special from Cardiff to celebrate the 25th series of JSF. However, for the first time, the games were only played for fun. So that meant all the teams involved won! (obviously)
Merchandise
The Best Of It's A Knockout: Here Come the Belgians! (VHS)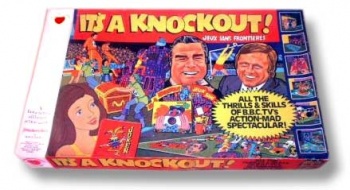 The 1976 IAK boardgame
There were at least two board games: a mid-70s version made by Strawberry Fayre with barely recognisable cartoons of Eddie Waring and Stuart Hall on the box, and a 1987 Grand Knockout Tournament tie-in which came in a royal blue box which fell somewhat short of conveying the intended air of pomp and circumstance (rather like the programme itself, really) and claimed Prince Edward "devised" the concept, which is taking royal perogative a little too far, wethinks.
Web links
JSFnet UK - Fantastic UK fan site.
Skooldays' It's A Knockout mini-site
Nostalgia Central's It's a Knockout Page
Series guides to the Welsh versions:
Pictures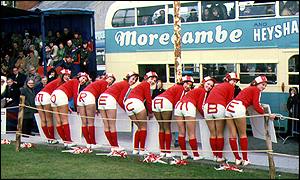 A cheeky shot from the lasses from Morecambe Bay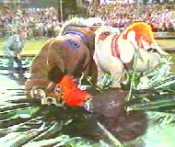 Horsing around
Feedback