Paul Daniels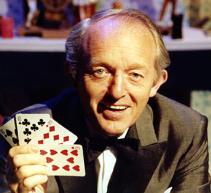 Biography
Paul's roots are from Teesside in the North-East. From age 11, he began learning magic as a hobby, and performed for parties in his spare time while working as a clerk.
After serving his National Service, he worked for the Internal Audit Office but soon he was a full-time magician on the club circuit during the 60s. A string of successful TV series and specials with the BBC led him to win the Golden Rose of Montreux in 1985. As well as the magic programmes, he also presented a triplet of successful game shows - and he certainly deserves to be remembered as much for his excellent hosting of these shows as he does for his magic.
He married his assistant Debbie McGee in 1988. In later years, he mainly performed on cruise ships and in provincial theatres. He died in 2016, aged 77, after being diagnosed with a brain tumour.
Trivia
MAG 1 C is the registration plate on his Bentley. Debbie McGee put the number up for sale in 2019, but we never heard whether anyone actually bought it.
His birth name was Newton Edward Daniels, but took his stage name from his son Paul. He had two other sons, one named Gary, and the other son, Martin Daniels, is also a magician and comedian - he hosted the quiz Lingo. All three sons assisted their father with his tricks on the Magic Show.
In 1980, fronted a BBC pilot called Gotcha! (featuring Jeremy Beadle stunts) which was deemed too "vulgar" by the then-Head of LE, the late Bill Cotton. Though never aired, some of the actual set-ups were used in The Late Late Breakfast Show.
He used to teach fencing to school children - and he hosted a wacky BBC children's puppet series entitled 'Wizbit' in the mid-80's.
Daniels once stated in an interview that he didn't practise magic, because it was like having green fingers - you've either got it or you haven't.
He and Debbie appeared very memorably on Louis Theroux's series, "When Louis Met..." in 2001. This showed that Paul had virtually retired from showbusiness, apart from the occasional engagement and was therefore putting much of his energy into helping manage Debbie's thriving theatrical company.
Apart from his gameshow catchphrases, his main catchphrases were, "You're going to like this - not a lot - but you'll like it!" "Now, that's magic!" and, "Say 'Yes, Paul!'" The latter was copied by Dale Winton for Supermarket Sweep: "Say Yes, Dale!"
Although he hadn't hosted a game show in years, he did put in an appearance during the head-to-head round in a 2012 edition of Pointless Celebrities, to read out clues to facts about himself (and verify the answers!).
Books / Tapes
To be completed
Web links
See also
Feedback