Jeremy Beadle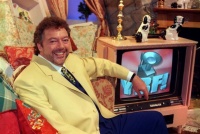 Biography
There was no getting away from his love-hate relationship with the public. Although his practical jokes shows, such as Game for a Laugh, Beadle's About and People Do the Funniest Things, have always been popular (with over 20 series under his belt), you won't find many people admitting that they like Beadle the man (unless they've actually met him in person).
Jeremy was a trivia buff - particularly a chronicler of events that happened on particular days. His Today's the Day slot on TV-am was one of his early television appearances, as was Eureka, a children's programme about inventions for the BBC.
Despite his somewhat unfair reputation, he knew how to get a crowd on his side - not many people can say they've worked as a tour guide, radio presenter, conference speaker, circus ringmaster and TV host.
A Londoner by birth, he suffered from Poland Syndrome, a condition which stunted the growth of his right hand and he spent a large part of his spare time doing charity work.
On 30th January 2008, Jeremy Beadle died after a short-term illness from pnuemonia. He was 59.
Trivia
In 1990, he was voted the second most hated person in Britain, behind Saddam Hussein, and just ahead of Anneka Rice.
He masterminded the 1972 Bickershaw Rock Festival.
Amazingly, some of his earliest broadcasting credits came courtesy of Radio 3. He wasn't pontificating on classical music though - just presenting inserts for It's Catching, a magazine show about hobbies and pastimes. He was not however related to the later R3 presenter (and sometime custodian of their Christmas Quiz), Jeremy J. Beadle.
He was the Northern editor of Time Out.
He was once kissed on the lips by Robert de Niro.
Some sources claim he hosted a short-lived revival of Twenty Questions on Radio 4 in the 1990s, but we can find no evidence for that.. and we've looked really, really hard. There was a revival of said format in the 90s under the title Guess What?, but we have no reason to believe Beadle was involved in any capacity.
His last TV appearance before his death was Get Me the Producer, a salutary lesson in how not to do a game show. His last TV appearance full stop was Celebrity Dickinson's Real Deal, which aired posthumously.
Books / Tapes
Jeremy Beadle's Beginners Guide To Practical Joking (video)
Web links
See also
Feedback