Twenty Questions
Host
Stewart MacPherson (1947-49)
Richard Dimbleby (stand-in, 1948-49)
Kenneth Horne (stand-in, 1949-51, full time, 1961-68)
Gilbert Harding (1950-60)
John Arlott (stand-in, 1951)
Peter Jones (1960-61 (TV), 1973-74 (Radio))
David Franklin (1969-73)
David Nixon (stand-in, 1973)
Michael Flanders (stand-in, 1973)
Terry Wogan (1975)
Cliff Michelmore (1975-76)
Co-hosts
Panellists: Jack Train, Anona Winn, Richard Dimbleby, Daphne Padel, Joy Adamson. In later years, 'mystery voice' Norman Hackforth was a regular.
Some 'mystery voices':
1947?-62?: Norman Hackforth
1965: Dame Flora Robson
1967: John Snagge
1974: Colin Welland
1975: Gretta Gouriet

Broadcast
BBC Home Service, 28 February 1947 to 28 July 1976
BBC Television Service, 13 June 1947 and 12 March 1948 (One-offs)
1 December 1956 to 30 March 1957 (18 episodes in 1 series)
Associated Rediffusion for ITV, 17 June 1960 to 5 September 1961 (23 episodes in 2 series)
Synopsis
Before that 20Q gadget came on the market, there was Gilbert Harding haranging a panel of celebrities who had to identify a mystery object within twenty questions.
A typical set of mystery objects was: Bugs Bunny; malt whisky; a connoisseur; a female weightlifter; the Mystery voice; a riddle; the Complete Works of Shakespeare; a wooden leg; a Scilly Island; top brass; Jeeves. On one occasion, the object was "the person next to me", which caused all sorts of confusion as the enquiry "Is this person female?" was correct one moment then not the next.
Inventor
Supposedly invented by Lord Palmerston, who played it with Queen Victoria. We educate as well as entertain, you see.
Trivia
Ian Messiter was reprimanded by the BBC for including "sporran" and "fig leaf" as consecutive objects on the same programme.
On one occasion, Richard Dimbleby forgot to turn up. Producer Ian Messiter, thinking quickly, decided to recruit someone from the audience and make a publicity stunt out of the adversity. Unfortunately, the only man to volunteer was a bit tipsy, but thankfully not too many people noticed.
They did notice when Gilbert Harding once got very drunk on the show. Harding bought Messiter a triple gin and tonic to 'loosen him up' before recording, which Messiter refused, so Harding drank the lot - probably on top of what he had already consumed. Having not been ready by the time the show was live, during the 27 minutes the programme was on air he managed to insult Richard Dimbleby as "the BBC's sacred cow", Joy Adamson ("Joy by name, but not by nature") and failed to recognise that the panel had correctly identified "a peony" after question seven and went on to announce the answer - to much commotion - after twenty questions. Harding barked back: "Serves them right - they shouldn't take this silly game so seriously. Let's get on with the next object." He closed the programme three minutes early with the diatribe: "I'm fed up with this idiotic game; as for the score, if you've been listening you won't need it; if you haven't, you won't want it. I'm going home." For this, Ian Messiter fired him.
The series inspired a 1950 movie, The Twenty Questions Murder Mystery. According to allmovie.com, "the killer sends the four players clues which are read on the air. Fortunately, two clever reporters solve the mystery and then use the players to catch the killer." Host Stewart MacPherson, "mystery voice" Norman Hackforth and panellists Jack Train, Daphne Padel, Jeanne De Casalis and Richard Dimbleby all appeared as themselves.
See also
Pictures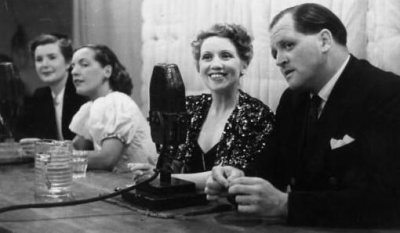 A 1947 panel comprising, l-r, Kathleen Ryan, Daphne Padel, Anona Winn and Richard Dimbleby.
Feedback