Game for a Laugh
Synopsis
The original brief for Game for a Laugh was to create a BBC series that could be presented by Paul Daniels (alongside David Copperfield and Pamela Stephenson) that was not about magic. However the format, titled Gotcha, was rejected after the pilot show was deemed to be too vulgar. Undeterred Jeremy Beadle took the idea to the USA where producer Michael Hill happened to be looking for a new programme in which "the people are the stars". After some further refinements (of which the end result was an 80-page document), Beadle approached LWT, and with the help of producer Alan Boyd arrived at perhaps the most successful light entertainment series ever to feature two bearded presenters.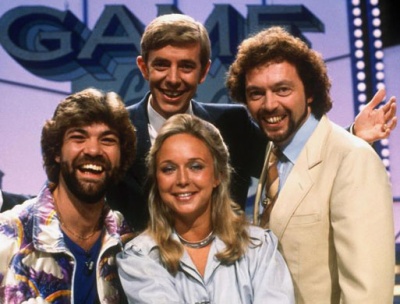 The original GFAL gang: Acceptable in the 80s.
Perhaps the greatest praise you can bestow upon Game for a Laugh is that there was nothing like it before, and there's been a lot like it since. Pretty much every successful Saturday light entertainment show that has followed in its wake has been influenced by the cleverly eclectic format put together by Beadle, Boyd and Hill. Defining Game for a Laugh as a "people show" was central to its success, it gave the series a structure that could encompass a number of different ideas without, as Noel Edmonds puts it, "the construction being evident to the viewer. So the viewer sits back and receives something that hopefully they will find entertaining, they don't think, oh now they're going to do this and now they're going to do that. You've got to avoid that."
Viewing an edition of Game for a Laugh today, one of the things that stands out strongest is that unlike many television programme from that time (and we are talking about almost 25 years ago), it doesn't really require much sticking power from the viewer. Items come and go with great pace, and the whole thing feels surprisingly contemporary.
But perhaps herein lay the chink in Game for a Laugh's otherwise perfectly constructed formula. It was a voracious consumer of ideas, and whilst early series seemed to consist of an assembly line of fresh items, by the time the original presenters had disbanded (leaving only Beadle to soldier on), it was obviously becoming difficult to think of new things to do. Besides, the series' stock-in-trade were studio games predicated on hoodwinking members of the audience. Inevitably after a few of these, volunteers knew to be suspicious of Beadle, thus neutering these items of much of their impact.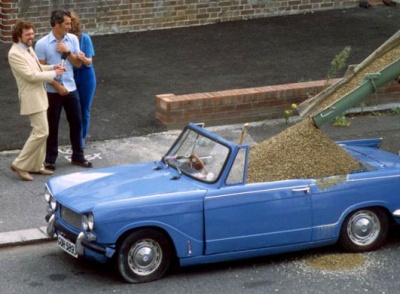 Pouring dirt into someone's car. The absolute classic.
It's worth noting that all four of the original hosts went on to host other quiz/game shows after their time on 'Game For A Laugh'. It's just a shame that Henry and Matthew ended up hosting some tacky shows (Monkey Business and Hotel Getaway respectively) along the way - but hey, we all have our crosses to bear - and Henry certainly more than made up for it through his considerable success hosting Going for Gold and Matthew with Stars in Their Eyes.
Key moments
One of the most infamous sections of the show was the Pie Chair, a chair with two long extendible arms with hands on the end each bearing an extra-foamy yellow custard pie. The victim from the audience was challenged to do some seemingly impossible task (e.g. "In two minutes, name 50 words that don't contain the letter A) and when the time ran out the victim would be pied. In this particular example, the contestant was on the right lines as he began to say numbers. You can in fact say the numbers 1 to 100 without saying an A. On one other occasion, the player beat the chair so - if memory serves - they wheeled on Nicholas Parsons to take the pies instead.
One amusing game once played on the programme involved two men lying on tables with ice cream cones in their mouths, and their wives (who just happened to be blindfolded!) had to try to scoop ice cream into the cones. You can imagine the mess the unfortunate blokes ended up in!
Catchphrases
"Watching us watching you, watching us watching you"
Web links
Pictures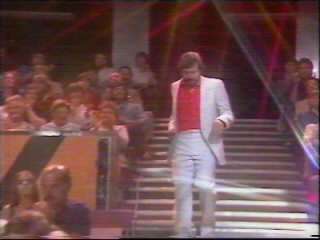 That famous "running down the stairs" start, with Jeremy Beadle...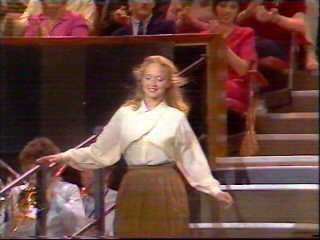 ...Sarah Kennedy...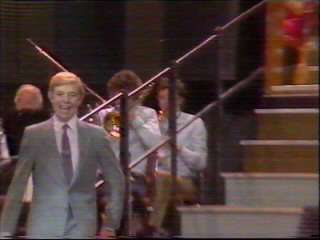 ...Henry Kelly...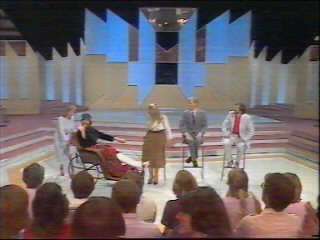 ...and Matthew Kelly, who had to be wheelchaired onto the first show. He'd broken his leg on a practice parachute jump for the show.
Feedback