Supermarket Sweep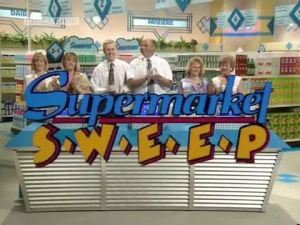 Host
Dale Winton (1993-2007)
Rylan Clark-Neal (2019-20)
Co-hosts
Commentator:
Bobby Bragg (1993-9)
Gary King (2007)
Jennie McAlpine (2019-20)
Broadcast
Central in association with Fremantle (UK) Productions (formerly Talbot Television) for ITV, 6 September 1993 to 19 December 1997 (380 episodes in 5 series)
Co-produced by Carlton UK Productions, 1995-97
as Dale's Supermarket Sweep:
Central, Grundy (formerly Pearson Television) and Carlton for ITV, 1 September 1998 to 6 September 2001 (169 episodes in 2 series)
TalkbackThames for ITV1, 12 February to 31 August 2007 (40 episodes in 1 series + 20 unaired by original network)
Challenge, April to May 2009 (last 20 episodes - see Trivia below)
Thames for ITV2, 9 September to 4 October 2019 (20 episodes in 1 series)
Thames for ITV, 1 September to 19 December 2020 (25 episodes in 1 series)
Synopsis
Three teams of contestants attempted to earn as much time on their clocks as possible by answering product and price related questions. Each team begins with one minute on their clock but can earn 10 seconds for answering one of Dale's easy-peesy questions about food or Heat-style celebrity gossip. The first member of each team played the first two rounds, they swapped over for the next two, and the "Round Robin" free-for-all at the end involved the players pointlessly swapping positions after every single question.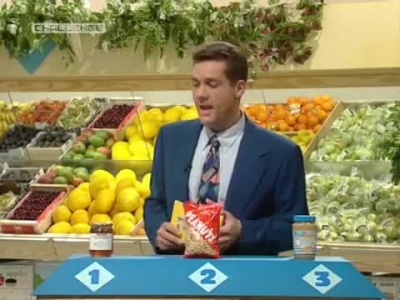 They're all yours for free. Only joking, they're not.
This time would be used in the Supermarket Sweep itself, where one of each team would go "wild in the aisles" trying to hoy as much grub into their trolleys as their little flabby arms could manage. This bit was excellent fun and there were bonuses to contestants should they want them, including:
Mini-Sweep: At the opening of the show, Dale would ask a question then ask one of the team to go and find it on the shelves. If they could find it and bring them back within 30 seconds they won a £25 bonus (£50 in the remake) to the Sub-total plus 10 seconds on their clock.
Pik 'n' Mix: If the shopper wanted to, somewhere in the market was a Pik and Mix counter. If they could weigh up exactly 500g made up of five different varieties of sweets (aided by one of the checkout girls) £50 would be added to the sub-total.
Manager's Special: Somewhere in the supermarket was a pile of tins. If they could find the one with their team's colour stuck to it they added £50 to the sub-total.
Pricing Gun: Contestants could price up 12 coffee jars. If they do, that was another £50 (this wasn't included in the 2007 remake - no doubt it was considered too old hat by this time).
Dale's Shopping List: Before the sweep, Dale read out three items. Any shopper who picked up all three of these items earned a £100 bonus. These were usually semi-obscure items.
Inflatables: Placed around the Supermarket were various wacky inflatables (a big banana or fish or something). Each shopper was allowed to take a maximum of one and they were worth £25, £50, £75 or £100, the actual amount being revealed after the sweep.
There were a few stipulations though - no shopper was allowed more than three of any one item and any broken or dropped items carried a heavy penalty (£25). Oh, and they weren't allowed to knock a cameraman over either.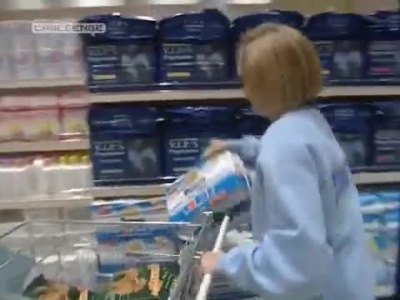 I'll buy this, I'll buy that, I'll buy EVERYTHING THAT THIS STORE HAS TO OFFER!!!
The team with the highest combined total of "bonus score + value of the items in their trolley" went through to the Super Sweep. This was like a heavily-condensed version of Treasure Hunt only with normal people and a very camp Kenneth Kendall. Hidden in the market were three special objects. Behind the first two were clues to the next one and behind the third object was £2000. They had a minute to find it. If they failed they went home with the value of the goods in their trolley (but not the bonuses).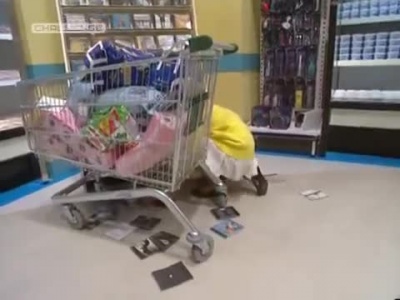 Hope they weren't Bananarama albums.
There was also a "You'll be able to answer this question if you're intelligent enough to breathe" 0898 competition. "Dial Dale and be a winner!" Ooh er Missus!
Re-check it out
The remake in 2007 is nothing short of triumphant. Managing to repaint the walls without undermining the foundations, there's still a lot of fun to be had but the whole thing doesn't descend into parody and farce like Talkback's The Price is Right remake. The format's pretty identical to the original, although it's got a new, bouncier theme tune (with "Check it out"s intact) and the top prize is now £5,000. The questions are a little more challenging than the over-simple original, and the quiz zips along at a pretty good pace too. But why, oh, why is Dale wearing middle-aged leather jackets - when did you last see a supermarket manager in that get-up? We want to see him in a Sainsbury's orange fleece at the very least.
SuperClarket Sweep
Fremantle acquired the rights to make the show in October 2017. They might well have acquired the rights to Dale, too, were it not for his death in April 2018, and Rylan Clark-Neal took over, this time for a twenty-episode spell on ITV2 - they'd obviously learned their lesson from the last remake - at 8pm, thus throwing away any lead-in they could have gained from The Chase.
Episodes were lengthened to an hour, which meant more games, mainly played for five seconds rather than ten. (One of the new games was the 'Express Sweep', with Express being the name of the sponsor's convenience stores. Hmm.) The show was extended by giving characters to the security guard and checkout operators, without making it feel much slower, and by introducing cameos, such as celebrities returning to collect their dropped receipts.
The show was noticeably cheaper, with losing contestants going home with a bag for life and the jackets they ran the sweep in (as well as correct answers in the Rylan's Rummage round) rather than the value of the goods in their trolley, and only £3,000 on offer. And that theme music! Ugh! It's one thing to fill the show with cheap hi-NRG and but whose idea was it to annotate the Super Sweep with angry drum 'n' bass? There's a time for frenzy, and it was the voiceover. The effect overall left us quaking as to what ITV were going to do with Epic Gameshow.
Mind you, someone must have liked it, given that it was eventually recommissioned for an ITV daytime slot for an, erm, 19-episode run at 3pm (so to start bang on 1 September). They also ordered six celebrity Saturday afternoon episodes, which was something Dale never managed - these celeb shows offered £10,000, plus £250 if the Mini Sweep item was found. However, this series was recorded after the first Covid-19 lockdown, so didn't have any audience, and so it was somewhat surreal hearing a non-existent audience shouting irrelevant instructions…
Key moments
A team of firefighters from Newcastle in the third series all went well for them in the first half of the show bagging the most time on the clock, but all went downhill in the second half where the person that volunteered to do the sweep went absolutely berserk adding the value of goods to their trolley by knocking and throwing other stuff on the floor without even realising, his teammate shouted at him to pick them up to avoid being penalised but that didn't go to well for him. When it came to adding up the values of goods from their trollies plus the items that were on the floor, their grand total would've be -£13, they did grab a £100 inflatable bonus, which avoided them from going into the negatives.
In an unseen outtake from the fifth series, Dale congratulates a contestant on their maternity leave and then asks "When's the baby due?" to which Dale then realizes that the contestant has already given birth to the baby.
Catchphrases
"Check it out"
"Go wild in the aisles"
"Where's the money?"
"The next time you're at the checkout and you hear the beep.. [bip-bip], think of the fun you could be having on Supermarket Sweeeeep!"
Inventor
Based on a US format by Al Howard, who also devised Sale of the Century.
Theme music
Original theme composed by Kevin Kitchen.
2007 version by Ash Alexander and Simon Darlow.

2007 Opening and Closing titles
A version of the original theme tune, featuring soundbites of things Dale might say on the show, was released as a single in December 1994: Supermarket Sweep (Will You Dance With Me?) by The Bar-Codes featuring Alison Brown. It reached the dizzy heights of number 72.

Pop video of the Supermarket Sweep theme tune
Trivia
The show turned Dale Winton into a star somewhat with regular appearances on the National Lottery show. To accommodate for this, by the end he no longer wore smart, acid-coloured suits and the show was renamed "Dale's Supermarket Sweep".
Before Dale was approached to do the show, Keith Chegwin had already turned it down.
The prices and products all came from licensed supermarkets with the first series from Asda, the second series from Co-op and Somerfield from the third series onwards. Tesco sponsored the 2019 remake.
If contestants didn't go for the giant turkeys straightaway then they were fools and deserved to lose.
Dale once revealed on an episode of Al Murray's 'Happy Hour' chat show that the producers called him one day to say that they were thinking of bringing the show back. He said that he thought the show should be left alone as it had had its time. Soon afterwards, they called him back to say: "Well, we are going to bring it back and if you don't do it, Bobby Davro will!"
The first five series went out at 9.25am from Monday to Friday, a continuous run from September all the way up until Christmas. The 1998 series went out at 2.40pm with 48 episodes airing on Tuesday to Thursday from September to December 1998; the last 36 episodes went back to Monday to Friday from January to March 1999. The 1999 series dotted around in the schedules with the first 53 episodes going out at 2.40pm from May to July 2000, 14 episodes at 1.30pm during September 2000, another 14 episodes at 2.10pm in February and March 2001, and the last 4 episodes aired at 2pm in September 2001.
The commission of the 2007 revival originally had a run of 5 celebrity specials and 55 episodes regular episodes making it 60 episodes. The show originally aired at 5.30pm. Unfortunately, the popularity of Richard & Judy's chat show on Channel 4 completely overshadowed it and was pulled off the schedule after 25 episodes (12 February to 16 March). It returned at an earlier time of 12.30pm and it didn't even last long as well in that slot and was pulled again after 15 episodes (13 to 31 August). The remaining 20 episodes were unaired for two years until game show channel Challenge picked it up to air the unaired episodes alongside the 40 aired episodes (April to May 2009). The 2019 revival had the opposite problem; only 20 episodes were commissioned, but there were 60 slots to fill, so ITV2 repeated the series twice in exactly the same slot before reverting back to You've Been Framed! repeats.
A pre-fame Josie d'Arby was a contestant on a 1993 edition.
Merchandise
Dale Winton's "Supermarket Sweep" Quiz Challenge
There was also a Supermarket Sweep board game.
Web links
See also
Weaver's Week made contemporaneous reviews of the 2007 and 2019 versions, and looked back on the 1993 version as nostalgia.
Feedback