Kenneth Kendall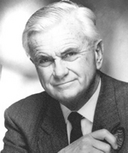 Biography
Much-respected journalist, well-known as one of the BBC's main newsreaders throughout the 1970s, though he actually started way back in 1954 and was in fact the first newsreader to be seen in vision on British TV. He quit the national news in 1981, though he would continue to be seen on regional news programmes for several years. He was an apparently unlikely yet inspired choice to host Treasure Hunt. Later retired to run first a restaurant, then later an art gallery, on the Isle of Wight.
He died in December 2012, at the age of 88.
Trivia
He made an appearance in "The War Machines", a 1966 black and white episode of Dr Who.
He apparently lost one of his front teeth while reading a late-70's edition of the early-evening news, but managed to soldier on.
Web links
Feedback