Al Murray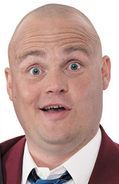 Biography
Stand-up comedian whose best-known persona is "The Pub Landlord", in which guise he won the 1999 Perrier Comedy Award, on his fourth nomination. However these days (thanks in part to his appearance on Hell's Kitchen in 2004) he's perhaps even better known as himself.
Murray is also something of a history buff, something demonstrated when he appeared on a celebrity edition of Time Commanders.
Trivia
He was born on the exact same day as Ed Sanders, 10 May 1968.
He is a direct descendant of William Makepeace Thackeray (of "Vanity Fair" fame) and owns a collection of Thackeray's letters.
Books / Tapes
Al Murray - The Pub Landlord Live: My Gaff, My Rules (DVD)
The Pub Landlord's Great British Quiz Book (hardback book)
Contact
Avalon Management, 4a Exmoor Street, London W10 6BD
Web links
Feedback