Al Murray's Great British Pub Quiz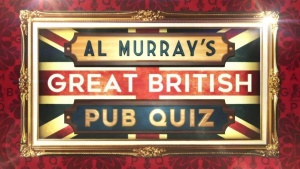 Host
Co-host
Shaun Williamson
Broadcast
Avalon for Quest, 7 March to 1 September 2019 (20 episodes in 1 series)
Synopsis
Al Murray hosts a pub quiz. It's as simple - and as compelling - as that sounds.
Regular rounds included: "One Too Many", an odd-one-out stumper. "What Is It?" tries to work out the function of a mystery object. "Photos from a place" puts Al Murray and co-host Shaun Williamson in well-known locations.
"Shaun's Nuts" is a category board quiz, hiding packets of peanuts behind some categories. "Orders at the Bar" sees the teams dressing up, then put themselves in a sequence. "Split Faced" is four faces melded into one, with points both for identifying them and for working out the connection.
In "Beat the Barman", a player goes face-to-face with Shaun to name items in a particular category; first person to repeat, hesitate, or deviate from the subject loses. "Last Orders" is the inevitable quickfire buzzer round.
Points for correct answers, and most points at the end of the show wins a memorial tankard stuffed with twenty £50 notes.
It's all done with a sense of fun, the questions are that seaside postcard form of gentle smut and double entendre. The show uses its visuals well, everything after the first round has something interesting to look at.
Title music
Original music composed by Chris Lewis.
The pianist on stage is Kirsty Newton, who had previously been one of The 100 on All Together Now.
Trivia
Aired ten episodes between 7 March and 9 May at 10pm on Thursday before dropping off the air. It returned at 9pm on Sundays from 30 June.
See also
Feedback