All Together Now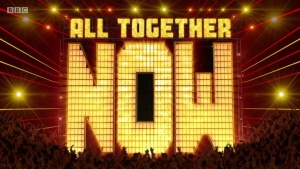 Host
Co-hosts
Geri Horner
Broadcast
Remarkable Television (part of Endemol Shine Group) for BBC One, 27 January 2018 to 13 April 2019 (13 episodes in 2 series + 1 special)
Synopsis
Here's someone singing, stand up if you like them.
In this Saturday night show, singers perform in front of an audience. Unlike most other Saturday night shows, the audience aren't members of the public. No, this audience is made up of a hundred music experts and performers. The leader of The 100 is Geri Horner, previously known as Ginger Spice. (Ask yer ma.)
When people in The 100 hear something they like, they're to stand up and join in with the performer. The number of people who join in becomes the act's score. Best performers in weekly heats go through to the final, with a £50,000 prize for the overall winner.
Rob Beckett explains the format as we go on, and talks to some of The 100 with one question: why did (or didn't) you stand for this act? Geri Horner gets her name in the credits, and speaks at least twice a week - the former Ginger Spice is not the star of the show. Rob also explains the end-of-show rules (winner goes straight to the final, next two will sing again and the winner goes through).
They've made sure that all the competitors are strong singers, able to hold their own in front of a room of strangers. There are no poor performances, just ones that don't connect with The 100 quite as well.
All Together Now went out at the same time of year as the spinning chairs element of The Voice UK on ITV. We think there's a comparison: what else are the spinning chairs other than "stand up if you like them"?
Editing is slick, some of the less-successful contestants are edited down to a few moments, so as to keep the show rolling on with pace. It's a fun hour, with plenty of "wow, they're good" moments.
Champion
2018 Michael Rice, who a year later would go on and win Eurovision: You Decide to represent United Kingdom at the 2019 Eurovision Song Contest at Tel Aviv in Israel
2019 Shellyann Evans
Title music
Marc Sylvan, credited as "Composer"
Trivia
Panellist Divina di Campo and contestant Veronica Green would later appear on the first and second series of RuPaul's Drag Race UK, while contestant Rachael Hawnt would later win Starstruck. Kirsty Newton would later play piano on Al Murray's Great British Pub Quiz.
Web links
See also
Feedback