Starstruck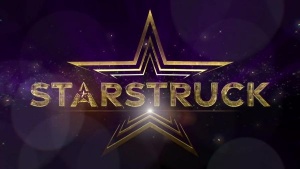 Host
Co-hosts
Judges:
Adam Lambert (S1-)
Sheridan Smith (S1)
Beverley Knight (S1-)
Jason Manford (S1-)
Shania Twain (S2E1-4,S2E7-)
Ronan Keating (S2E5,6)
Broadcast
Remarkable Television (part of Banijay) for ITV, 12 February 2022 to present
Synopsis
A reimagining of Stars in Their Eyes.
Like in the original series, members of the public want to perform as their favourite star. Through the magic of television make-up, the ordinary people become a star, just for one day.
Unlike the original Stars in Their Eyes, nobody gets a solo performance in the heats. Everyone appears in a team of three - a trio of George Michaels, three Tina Turners.
A judging panel offers their thoughts, and picks the winning team of three. An audience watching at home watches that team perform again, and chooses their favourite singer from the group. That person advances to the not-live final, where the winner scoops £50,000.
We loved the performances: big and flamboyant, a chance to let ourselves go on a Saturday night. The traditional attention to detail was retained from Stars in Their Eyes, our stars-for-a-night looked just like their idols.
The judging panel left us cold: rarely adding anything of substance. There was no constructive critique, certainly no snark, just tepid words while we could be watching the stars give a longer performance.
Starstruck obliquely mentioned how many of its contestants performed on cruise ships and the like, often as the people they were impersonating. We have no problem with a semi-professional series, we'd love it if they were completely honest with us.
Ultimately, Starstruck is a good time on your telly. Excellent impressions of famous people, a chance to relax and enjoy other people being brilliant. And dream of who you'd perform as...
Champions
2022 Rachael Hawnt as Cher
2023 Abbie Edwards as Adele
Theme music
Marc Sylvan
Trivia
Dean Lee was the choreographer, David Tench the musical director.
Filmed at ITV's studio at Bovingdon. It's the same arena as The Wheel, which was on BBC1 at the same time as some Starstruck episodes were on ITV.
Starstruck was filmed in April 2021 and broadcast almost a year later, unfortunately coinciding with Rose Matafeo's sitcom of the same name. It would have aired in December 2021, had Walk the Line not taken its slot.
The first series took a break after episode five to accommodate men's football and returned after a week, while series two judge Shania Twain took a break after episode four to entertain prebooked work commitments and returned after two weeks. Ronan Keating deputised while she was away.
See also
Feedback