Dale Winton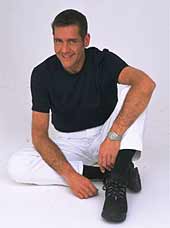 Biography
Dale Winton has been described as everything from "the new Larry Grayson" to "a national treasure". His background comes from DJ-ing, including stints at Radio Trent in Nottingham and Beacon Radio in Wolverhampton.
While he will probably always be best known for inviting people to "go wild in the aisles" on Supermarket Sweep, he also presented a number of prime-time shows for the BBC, including the longest-running National Lottery game show, In It to Win It, which at one point was beating Millionaire in the ratings.
He died on 18 April 2018, aged 62.
Trivia
He appears in the cult film Trainspotting.
Way back in the mists of time, Dale once applied to be a contestant on The Sky's the Limit. At the audition, another prospective contestant told him that the trick to getting on quiz shows was not to get too many questions right in the audition, because producers didn't like people who were too smart. (This, incidentally, remains very good advice even today - especially if you're going for a show like In It to Win It.) Unfortunately, Dale didn't believe her, breezed through the audition, and was rejected.
Had a #72 hit in December 1994 with "Supermarket Sweep (Will You Dance With Me)".
His mother, Sheree Winton, was an actress in films such as 'The Road to Hong Kong' and 'Rhubarb', and was technically a Bond Girl as she had an uncredited bit part in the 1965 Bond film 'Thunderball'.
He is the only game show host to have two of his game shows not air in full; twenty episodes of the 2007 run of Supermarket Sweep were left for Challenge to air, while 35 episodes of I'm the Answer remain in an ITV vault and have never seen the light of day. It could have been worse; had he stayed on as host of Hole in the Wall for its second series, he would have had one of his episodes elbowed on to Challenge by the Royal British Legion Festival of Remembrance.
Books / Tapes
Dale Winton's "Supermarket Sweep" Quiz Challenge
Dale Winton: My Story (paperback) | (hardback) | (tape)
Web links
See also
Feedback