Dale's Great Getaway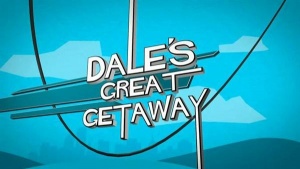 Host
Co-host
Voiceover: Judith Chalmers (uncredited)
Broadcast
ITV Studios for ITV1, 29 December 2012 (pilot)
Synopsis
Remember The Generation Game? Remember Push the Button? Somewhere between those shows is this broadcast pilot from ITV.
With the studio set like an airport, complete with flickering departure board, three families play a series of games. There was a name-the-tune contest, spotting hit records interpreted by a Mexican mariachi band. Then someone from each team got to milk a goat on national television. As you do.
Each of these challenges has a link to a country of the world, and some educational content was provided by a brief animation on the nation, narrated by Wish You Were Here host Judith Chalmers. Others games played were opera singing with The Italian Tenors, performing with the DC Cowboys, and a yes-no game in Albanian (where they nod their head for no, and shake it for yes.)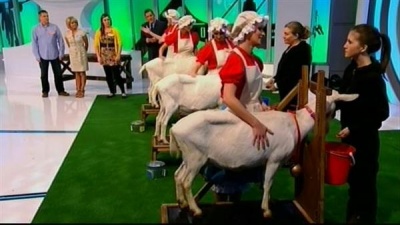 This show gets our, er, goat.
Towards the end of the show, families were eliminated. The last-placed family won a week at a caravan park in Bognor, the runners-up took a trip to Bergen, and the winners were off to the Bahamas. Before they left, they had five questions to win spending money, by knowing where celebrities were born, and in which country various cities are.
All of this was adequately done, but commentators spotted two gaping flaws. For starters, host Dale Winton was a bit too stand-offish. The milking game, in particular, would have benefitted from Dale going to the contestants, seeing how they're doing, making silly jokes, something Larry Grayson did perfectly. And the cash game tested one, fairly narrow, subject area; though it was edited down to five minutes, it was still a tedious comedown from the performances we'd seen beforehand.
It's family fun, it's all a bit of a giggle, and it wasn't well served by going out at 8.45 on the Saturday after Christmas. Viewing figures and critical reaction were poor, and we're not expecting to see a series.
Music
Music composed by Jess Bailey and Graeme Perkins
Feedback