Tom O'Connor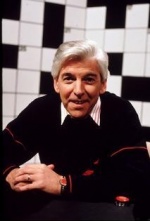 Biography
Former maths teacher from Bootle, Merseyside, whose first break into television came through Opportunity Knocks which was then cemented by a regular slot on ITV's The Comedians. He went on to host his own ITV show and a whole raft of gameshows, most memorably Crosswits. He was known for getting laughs by the way he told longer stories, and had a joke for every occasion.
He had Parkinson's Disease for the last 14 years of his life. He died on 18 July 2021, aged 81.
Trivia
As an actor, he had a recurring role as Father Tom in the BBC's daytime soap Doctors.
Books / Tapes
Eat Like a Horse, Drink Like a Fish
Follow Me, I'm Right Behind You
Take a Funny Turn: an Autobiography
Tom O'Connor's World's Worst Jokes
Web links
See also
A full obituary from Weaver's Week.
Feedback