Password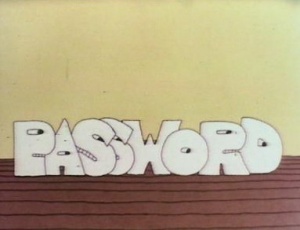 Host
Shaw Taylor (1963)
Brian Redhead (1973)
Eleanor Summerfield (1974)
Esther Rantzen (1975-76)
Tom O'Connor (1982-83)
Brian Munn (1985)
Gordon Burns (1987-88)
Stephen Mangan (2024-)
Co-host
Dinah May
Announcer:
Simon Prebble (1982-83)
John O'Hara (UTV)
Team captains:
Alan Carr and Daisy May Cooper (2024-)
Broadcast
ATV for ITV, 12 March to 10 September 1963 (27 episodes in 1 series)
BBC2, 24 March to 28 April 1973 (6 episodes in 1 series)
BBC1, 7 January 1974 to 3 January 1976 (33 episodes in 2 series)
Thames in association with Talbot Television and Goodson-Todman Productions for Channel 4, 6 November 1982 to 14 May 1983 (26 episodes in 1 series)
Ulster (regional), 2 September 1985 to 13 March 1987 (40 episodes in 2 series)
Ulster in association with Mark Goodson Productions and Talbot Television for ITV, 20 June to 29 July 1988 (30 episodes in 1 series)
Talkback for ITV1, 2024
Synopsis
Word game with the added bonus (if we remember correctly) of sometimes not having any adverts midway through the show, a bit like This Is Your Life (when it was on ITV, that's not something to be too impressed by on the BBC, is it?).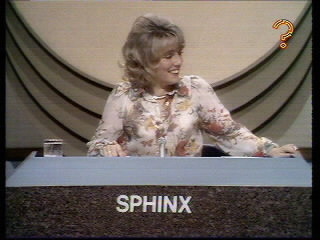 The most '70s image on our website
Based on the American show that's a bit like The Pyramid Game (indeed, the French show Pyramide probably has more to do with Password than it has to do with The Pyramid Game), two teams consisting of celebrity and real-life person compete in guessing passwords. If anything, though, 'Password' was even more like Three Little Words, which definitely did involve one-word clues.
One person gives a one word clue and their partner has to try and guess from that what the password is. If they don't then their opponents get a go but for less points. Keep going back and forth until someone gets it; keep going to a certain amount of points are reached then something good is bound to happen.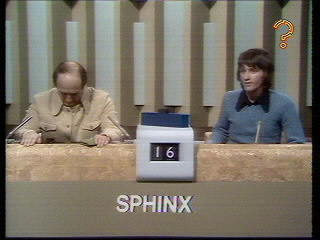 The team decide to resort to navel gazing
Lasted a couple of years but eventually made way for the behemoth that was Chain Letters and the underrated excellence of Talkabout.
Enter in a new Password
A pilot of the show was filmed for ITV in March 2023, with Alan Carr and Daisy May Cooper reported to be hosts. The non-broadcast pilot was positively received and a full series was commissioned a month later; Cooper and Carr were now captains, Stephen Mangan the host. Episodes were filmed in June 2023 at Television Centre in London, for transmission the following year.
Inventor
Based on a classic US Mark Goodson-Bill Todman game show.
Theme music
Channel 4 version composed by Mr. Lovejoy himself, Denis King. A clip can be found on the relevant page of TV Ark.
Trivia
Password is the only game show (at the time) to have broadcast on all four terrestrial channels. It also appeared in vastly different schedule slots. The ATV series aired on Tuesday evenings at 7pm. The first BBC series aired on Saturday evenings at 8.30pm on BBC2. The second and third BBC series moved to BBC1; the second series started on Monday afternoons at 3.30pm before moving to Tuesday evenings at 6.50pm, the third series was stripped across the week in the Christmas/New Year schedule in late mornings. The Channel 4 series aired on Saturday afternoons at 4.35pm. The first and second Ulster series were only aired in the Northern Ireland region, two episodes each week on Mondays and Fridays at 3.30pm (6.30pm for the second series). The third Ulster series was networked from Mondays to Fridays at 9.25am just after TV-am had finished. For more information on the ITV 9.25 slot, we have a complete guide to ITV's 9.25 shows.
Web links
Opening titles from the BBC Motion Graphics Archive
Feedback