Esther Rantzen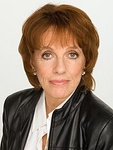 Biography
A campaigning journalist, best known for her long-running show That's Life, which tried to sort out the Gas Board and display onions that bore an uncanny resemblance to Ronnie Barker. Also founded the children's charity Childline.
Trivia
Esther was a hot press tip for the 2002 Celebrity Big Brother run; someone appears to have got her confused with Anne Diamond.
Rantzen was originally lined up to co-present 'TV AM' on its inception in 1983, but was forced to pull out because she was pregnant with her third child and therefore unable to cope with the antisocial hours that she would otherwise have had to work.
Very nearly presented Countdown; after Richard Whiteley fell ill, there were plans for episodes to be hosted by guests until he died the day before recordings were due to begin.
Her husband was the late Desmond Wilcox, a very long-standing and much-respected journalist and interviewer.
Stood at the 2010 general election in a seat concurrently contested by Stephen Rhodes.
Web links
Feedback