Richard Whiteley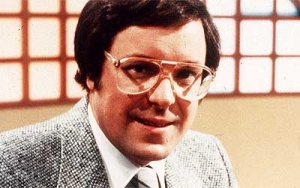 Biography
Channel 4 has taken many unknowns and propelled them into national stardom, only for them to run off to the BBC or ITV. But Richard Whiteley stayed with the channel from the very start. Indeed, in a celebrity promo for C4 he said that he would like to be remembered as the first face on Channel 4.
However, his career spanned far more than Countdown. The viewers of Yorkshire had already known him for a long time, as he had presented their regional ITV news show Calendar for many more years than Countdown. His initial appearance on Calendar was less than auspicious - due to technical problems at the then-new Yorkshire TV, his first filmed report went out in negative! During his time with Calendar he interviewed every Prime Minister from Harold MacMillan to John Major, and was staying in Brighton's Grand Hotel when it was blown up during the 1984 Conservative Party Conference. (Unfortuately, though he was there, ITN's film crews weren't, so his first reports had to be made in sound only down a phone line.)
A few years back, he did a stage show where he interviewed guests without knowing in advance who was going to turn up. A TV version subsequently appeared as Richard Whiteley Unbriefed, finally (though briefly) fulfilling his lifelong ambition of having his own show on the BBC. Despite being an ITV man all his working life, he was always a great admirer of the Beeb, and even took its history as his specialist subject on Celebrity Mastermind.
He was awarded the OBE in November 2004. He died in June 2005 after pneumonia and heart surgery.
Weaver's Week tribute - 3rd July 2005
Trivia
Richard Whiteley was the first face ever seen on Channel 4.
He is said to be the all-time most-seen face on British TV after Carole Hersee (the testcard girl).
At the last count, he owned 528 ties and 186 jackets. While many ties were sent to him from viewers, he only wore the nice silk ones!
He was the honorary Mayor of Wetwang, a small Yorkshire village which didn't officially have a mayor, hence his occasional nickname of "The Mayor in the Chair". Richard borrowed chains from a real local mayor for any Wetwang engagements.
He was nominated for the post of Rector of the University of Dundee in 2001, but lost the election to Dundee alumnus Fred MacAulay.
Shortly before his death, he won the one-off edition of "Star Spell", the celebrity spin-off from Hard Spell.
Richard gained some early notoriety from a much-repeated clip of him having his finger bitten by a ferret during a live edition of Calendar in 1977. The clip has appeared on out-take shows all around the world. After his death, the Yorkshire Post headed their obituary "FERRET MAN DIES", in reference to Richard's oft-made quip that his demise would be reported with exactly that phrase. He once interviewed Kenny Everett, who proceded to repeat the ferret encounter by grabbing Richard's hand and biting in to his finger.
When he was a guest on Shooting Stars, they make him read out 'IMTDSNINVU', a series of letters that looked like a conundrum. However, he was actually saying I am tedious and I envy you.
Richard made an appearance in the comedy drama series Fat Friends in 2000, playing himself as the compere of the Superslimmers competition.
He also made a surprising but welcome cameo appearance as himself in the BBC's long-running comedy series "My Family". The episode that he was in was a Christmas special, in which he, along with the resident Harper family and many other Christmas shoppers, was stuck in a London Underground train that had ground to a major halt. Although initially affable when the family started speaking to him, Whiteley soon became uncharacteristically stroppy, because he didn't like being pestered.
Richard was also a YTV political correspondent for many years. He continued to report for and present political programmes after he left Calendar in 1995 and revived his role in a brief Emmerdale cameo in 2002.
As well as presenting the nightly news programme, Richard found himself presenting many a Calendar spin-off. Examples include Calendar People (an in-depth talk show), Calendar Forum (debate programme), Calendar Commentary (late night politics show) and Calendar Christmas (well, you pretty much know what that would include).
Channel 4 paid extensive tribute to Richard on the day of the Series 53 Grand Final. A hastily re-edited version of a regional documentary Television Man (which was repeated in full on YTV the night before) and a special half-hour tribute produced by the Countdown team were broadcast.
Books / Tapes
Himoff! (autobiography) (paperback) (audio tape)
Richard By Kathryn: The Life Of Richard Whiteley (biography by Kathryn Apanowicz, hardback)
Web links
Feedback