Nia Roberts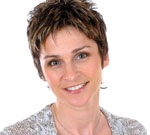 Biography
Nia Roberts has been one of S4C's most familar faces over the last two decades. She has been involved with many light entertainment shows, including the short-lived Penwythnos Mawr, Twrio and her own long-running chat show, Nia. She also gained a Europe-wide audience as co-presenter of Gemau Heb Ffiniau.
Currently, she hosts a mid-morning show on BBC Radio Cymru and is also the chief anchor of various events on S4C.
Trivia
Previously known as Nia Chiswell.
Nia is the sister of S4C sports anchorman Gareth Roberts.
Feedback