Côr Cymru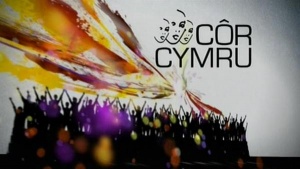 Host
Aled Jones (2003)
Nia Roberts (2005-7)
Heledd Cynwal (2009-)
Co-hosts
Heledd Cynwal (2003)
Gareth Owen (2005-7)
Morgan Jones (2009-)
Broadcast
Opus for S4C, 1 March 2003 to 2007
Rondo Media for S4C, 6 March 2009 to present
Synopsis
Biennal Welsh language choir contest.
Winners from five category-based heats (Male, Female, Mixed, Youth and Children) take part in a grand final for the title of best choir in the Land of My Fathers along with a tidy £7,000 or so.
2007 saw the introduction of an £1,000 prize for the best conductor during the series. A separate viewers' choice award was introduced four years later.
Outside Wales, interest was piqued when the 2017 winners were invited to participate in the first ever Eurovision Choir of the Year, to be held during the summer in Riga, Latvia.
Champions
2003 - Ysgol Gerdd Ceredigion (youth)
2005 - Serendipity, Cardiff (mixed)
2007 - Cywair, Newcastle Emlyn (mixed)
2009 - Ysgol Gerdd Ceredigion (children)
2011 - Cywair, Newcastle Emlyn (mixed)
2013 - Côr y Wiber, Newcastle Emlyn (women)
2015 - Heol y March (children)
2017 - Côr Merched Sir Gâr (youth)
2019 - Ysgol Gerdd Ceredigion
2022 - Côrdydd (mixed)
Best conductor award:
2007 - Mari Pritchard: Côr Ieuenctid Môn (Anglesey Youth Choir)
2009 - Sioned James: Côrdydd, Cardiff
2011 - Islwyn Evans, Cywair
2013 - Aled Phillips, Côr Meibion Rhosllannerchrugog (men)
2015 - Janet Jones, Parti Llwchwr
2017 - Eilir Owen Griffiths, CF1
Viewers' choice award:
2011 - Cantata, Llanelli (women)
2013 - Côr y Cym (youth)
2015 - Parti Llwchwr (women)
2017 - Côr Ieuenctid Môn (children)
Côr Cymru Cynradd (for primary school choirs)
2015 - Ysgol Iolo Morganwg
2017 - Ysgol Pen Barras
Trivia
The title translates as Choir of Wales.
Recorded at The Great Hall, Aberystwyth Arts Centre.
Web links
See also
Weaver's Week on the 2013 final.
Feedback