Katie Boyle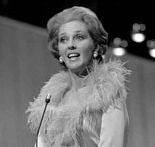 Biography
Catherine "Katie" Boyle was an actress and presenter born in Florence, Italy in 1926. She is best known for presiding over the Eurovision Song Contest on four different occasions - 1960, 1963, 1968 and 1974. She was partly chosen for her role because she has mastery of several languages. Her association with Eurovision has been developed through her willingness to appear on the various spin-off shows - A Song for Eurotrash, Harry Hill's Top Ten Eurovision, Tips for Le Top, Terry Wogan Says "Nul Point, Finland", etc etc.
Boyle came to the UK in 1946, and swiftly found fame as a clothes model. She appeared in a number of movies in the 1950s, and moved to the small screen in the following decade, hosting fashion advertorial Mayfair Merry-Go-Round. Her innocent demeanour allowed her to find regular places on the panels of What's My Line? and The Name's the Same, and latterly on Blankety Blank and Punchlines. Her last regular television engagement was on LWT's Sunday Show in the mid-1980s.
She died in March 2018, aged 91.
Trivia
Her birth name is Catherina Irene Elena Maria Imperiali dei Pricipidi di Francavilla. We thought that was the Italian entry in '65.
Katie was fond of animals, and sat on the board of Battersea Dogs' Home for many years.
Web links
Feedback