Stu Francis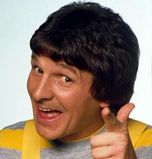 Biography
Bolton-born comic who featured on ITV's The Comedians in the 1970s, but is best known for fronting Crackerjack and threatening to crush grapes. Still does the club circuit and appears in panto every year.
Trivia
Stu was born on 30 January 1951, the same day as pop star Phil Collins.
As well as his main catchphrase, "Ooh, I could crush a grape!" Stu used to come out with a number of similarly crazy phrases, such as, "Ooh, I could wrestle an Action Man!" "Ooh, I could test-drive a Tonka!" "Ooh, I could jump off a dolls' house!" "Ooh, I could duff a daffodil!" and "Ooh, I could rip a tissue!"
It was during Stu's time on Crackerjack that the game 'Take A Chance' was introduced, whereby Stu and the celebrity guests would compete against each other to answer questions and thus avoid being gunged from above (possibly the first time on TV that an actual gunge tank was used?) However, Stu and the male celebrities were always gunged no matter who got the answer right. The gunge was always given a name relating to the celebrities themselves or to some random theme, such as planets, farmyards, food or things found in a bathroom (not bleach, thankfully!) However, the farmyard theme did produce some pretty ghastly-sounding gunge, i.e. 'Pig Swill' for Stu and 'Tractor Oil' for the boxer Charlie Magri, although it's probably true to say that the gunge did not really contain either – or did it…
Not to be confused with the Mock the Week regular Stewart Francis.
Web links
Feedback