Dinner Date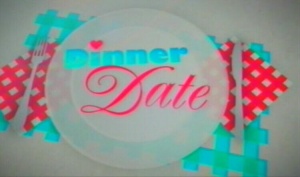 Host
Voiceover:
Charlotte Hudson (2010-12)
Natalie Casey (2014-)
Broadcast
Hat Trick Productions for ITV1, 9 August 2010 to 28 December 2012 (100 episodes in 3 series)
Hat Trick Productions for ITVBe, 8 October 2014 to present
Synopsis
A single person is given a list of five menus created by potential dates, from which they must pick three, basing their decision purely on what they think of the menus. Over three consecutive evenings, the single person attends each potential date's home where the menu they chose has been cooked for them. After visiting each potential date, and sampling their food, the single person must decide who they would like to take out for a romantic dinner. It's something like Come Dine with Me meets Dishes with maybe a hint of Cinio Caru.
If you can help us to expand this entry, please provide as much information as possible, using the feedback form below.
Trivia
Like all shows in the early 21st century, Dinner Date has been sold to countries across the world. Some of the episodes from Australia were bought back and shown by ITV.
After three series, the show was not renewed by ITV's daytime schedulers. A couple of years later, the ITV company launched "reality" channel ITVBe, where Dinner Date became primetime entertainment.
Web links
See also
Feedback