Dishes

Host
Co-hosts
Danny Brown
Broadcast
Bazal for Channel 4, 7 January 1999 to 9 March 2000 (2 series)
Synopsis
In a clever play on words, Dishes is a combination of dating show and cookery. Ready, Steady, Shag then, but this is a weekday six o' clock Channel 4 show and therefore will be a bit more discerning then Channel 5. Only a little bit mind.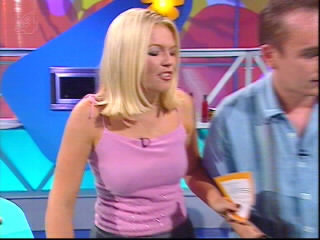 Kate Thornton with a contestant.
So, take three single guys, a single girl, some food, a huge partition, the slightly talented and actually rather attractive Kate Thornton and Danny Brown (formerly seen on Johnny Vaughan's short lived practical joke show The Fall Guy on BBC2), at least one of the contestants making a fool of himself, a huge exciting mad rush when the bell goes to get everything onto the plate, because if it's not on the plate then it doesn't go in, the winner getting a date in a restaurant somewhere and what do you get?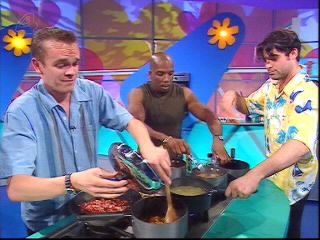 Danny Brown with contestants.
The result is actually something pleasantly diverting that you'll sometimes watch because you can't be bothered to get up and slam a microwave pizza on and there's nothing else on.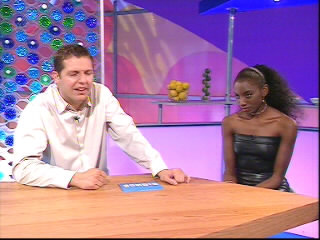 Danny Brown with a contestant.
Trivia
Thornton managed to get the job when she heard about it through a friend who was originally lined up to present the programme. As it happens, that friend was Angela Griffin, the former Coronation Street actress.
Videos

Part 1 of a 1999 episode.
Feedback