Fred Dinenage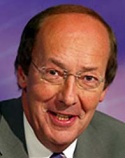 Biography
Long-serving South of England ITV newsreader whose willingness to send himself up has made him something of a cult figure. In the 1970s he was a sports presenter, which entailed fronting coverage of the 1972 Olympics. He's perhaps best known for the kids' non-quiz shows How and How 2, but he's turned up in all sorts of improbable places - even on the BBC.
After a 38-year run of fronting the main news programmes for all three successive ITV South franchises (Day by Day for Southern, Coast to Coast for TVS and Meridian Tonight for Meridian), he retired from newsreading at the end of 2021.
Trivia
He is very keen on football, and used to be a director of Portsmouth FC.
He was the Kray Twins' official biographer.
Techno twiddlers Orbital used a sample of him reading a report of a supposed alien abduction on their track "LC1".
He was the co-presenter to Dickie Davies on ITV's World of Sport.
He was made an MBE in the 2010 Queen's birthday honours.
He revealed once in an interview that he unwittingly gained not so much a nickname as an alternative name from a child who had watched him on "How". Apparently, Dinenage used to nod his head fairly frequently while talking about the 'hows' and the child concerned would send him letters that began, "Dear Noddy..." It was thus that Dinenage found out the hard way (if he hadn't already) that kids can often pick you up on all manner of things if you're not careful.
Web links
Feedback