Pass the Buck (2)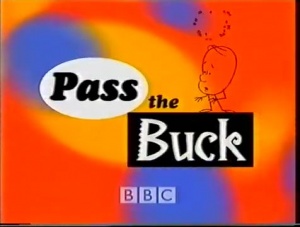 Host
Fred Dinenage (1998)
Eamonn Holmes (1999-2000)
Broadcast
Blaze Television (formerly Zenith) and BBC Manchester for BBC One, 12 October 1998 to 28 June 2000 (117 episodes in 3 series)
Synopsis
BBC Daytime in "good quiz" shocker!
Fred "two N's" Dinenage was wheeled out of obscurity to host this extremely nifty lunchtime quiz at 12pm.
In the opening game, ten players stand at the top of a staircase and must give a correct response to an open-ended category such as "Oscar winning actresses" or "Boy's names ending in -Y". Unlike Talkabout or the board game Outburst, any valid response is acceptable - sometimes there are hundreds of answers you can choose from. Answers must be given in 3 seconds without repeating an earlier response. A regular feature was a mathematical challenge, in which the contestants had to use two whole numbers to make a sum total, such as 39 - Dinenage would always give an example, along the lines of, "...Such as - and you can't use this - 38 plus 1".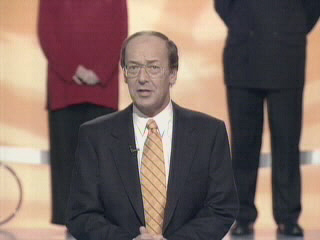 Fred Dinenage. Behind him stand two of the ten contestants in a semi-circle
The five remaining contestants are then given three "colours"- green, yellow and red. Substitute "colours" for "lives" and all you have is a five-player version of Fifteen-to-One. Not a very subtle rip-off, but never mind.
The remaining two players go through to the final round, where over 90 seconds each player alternately answer (scoring points along the way) until one of them fails to answer. By necessity, the scoring always remains pretty close, unless a real thicko has managed to fluke it thus far.
Later series have been hosted by Eamonn Holmes, and have included a new round played twice each show called the Memory Moment where 18 words are read out and have to be recalled by the contestants or they're out. (A later quiz, Memory Bank, would use a similar challenge as its endgame).
Good game, nicely done.
Key moments
The staircase has nice lights in the floor which indicate who is next to answer. Very cute.
One regular feature was for Dinenage or Holmes to ask for boys' or girls' names 'in common usage' beginning with a certain letter. It was never quite clear where exactly the adjudicators drew the line in terms of 'common usage', bearing in mind that the late-90s was quite an era for new and often quite unusual names. Still, in most of these cases, it seemed to be contestants repeating answers that caused their elimination, so maybe the issue never really arose.
Catchphrases
"And, Geoff, the buck restarts with you."
"And, starting with (whoever), the next level please..."
(Dinenage, referring to answers that defeated contestants could have given): "Easy for me to say - very difficult when you're stood up there!"
"...And you've now lost two of your colours - you can't afford to lose the third..."
Inventor
The Chatterbox Partnership.
Trivia
Thirteen episodes from the second series were repeated on BBC Two at 5.30pm.
Web links
Videos

A full episode from 1998.
See also
Weaver's Week review (from 2022)
Feedback