Get Your Act Together (2)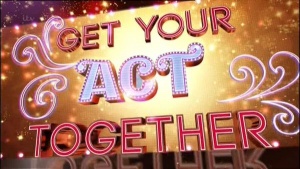 Host
Broadcast
ITV Studios for ITV, 18 January to 22 February 2015 (6 episodes in 1 series)
Synopsis
Talented people train celebrities in their particular skill. So we'll see footage of the celebrities making fools of themselves, and rehearsing to perform a particular trick. Then the celeb performs their stunt.
After all five celebrities have played their video packages and made their performances, the studio audience votes for their favourite act. The winner is declared, and gets to come back and do it again (but a bit better, with a harder stunt) in the final.
Does this sound familiar? It might do: we've cribbed the synopsis from Born to Shine, a 2011 summer filler. The main difference: the mentors on Get Your Act Together were celebrities such as Debra Stephenson or Penn & Teller, not children as on Born to Shine.
Get Your Act Together made much of "all-around access". This amounted to seeing the acts rehearse, brief clips of production meetings, and some arty shots of The London Studios. On show day, we had segments following Stephen and the acts backstage, and hearing the thoughts of selected members of the audience.
The show aired early on Sunday evenings, a slot vacated when Dancing on Ice came to an end. The original plan was to air Rising Star here, but when the show underperformed in the USA and Germany, it was axed before it was even made. Get Your Act Together continued the air of failure, viewing figures fell below 2 million.
Two reasons were possible for the show's lack of success. One: it was too slow, never moving faster than a pedestrian pace. Two: the audience doesn't watch variety shows any more. Yes, people say they'll watch old-fashioned dance-and-magic programmes, but give them the choice and they'll duck out for Countryfile or Animals in Love.
See also
Feedback