Gigglequiz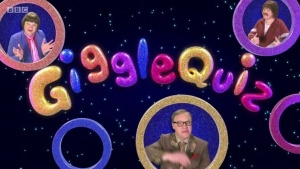 Host
Justin Fletcher
Co-hosts
Rod Arthur, Josh Elwell
Broadcast
BBC Studios for Cbeebies, 28 October 2019 to 15 March 2021 (26 episodes in 2 series + 1 special)
Synopsis
First there was Gigglebiz, a sketch show for the very young. The slapstick humour works for the children, and there's something for the parents in the room to laugh along. A huge success, has run for ten years, won Children's BAFTA awards. Made a star out of Justin Fletcher, who performs all of the characters.
The show was popular enough to spawn a spin-off quiz. Gigglequiz sees Justin Fletcher adopt the guise of quiz show host as he guides his familiar Gigglebiz characters through a series of quiz rounds.
Using archive footage, viewers at home will be able to play along with their favourite characters with 'What Happened Next?' and 'Spot the Difference' as Nana Knickerbocker, Arthur Sleep, Dina Lady and a host of others compete for points.
All of these characters exist thanks to green screen technology, a technical miracle allowing Justin to - literally - be in five places at once.
The script hits just the right note: easy enough for the target audience of three-year-olds to be entertained and gently educated (a counting game, what to do with leaves in the autumn, what is a bicycle). Barrie Bignold's music is just right for the show, lively and enthusiastic, and in the best traditions of cheesy panel games.
Like all of Justin Fletcher's work, Gigglequiz entertains both the children and the adults they're watching with. Older viewers will be familiar with the conventions of the panel quiz, team-mates who are meant to be working together, but often don't listen to each other. Young children will be impressed that Professor Muddles has worked out how to use a door, and that they know how to go through it even if the Prof doesn't.
Title music
Barrie Bignold is to thank for all the music.
Web links
See also
Feedback