Kitchen Criminals

Synopsis
A drawn-out competitive version of Cooking It, basically. Angela Hartnett and John Burton Race scour the country for terrible amateur cooks, each picking out the very worst for the other to train up at "cookery boot camp" (except - ho ho - the producers then switch the teams around so the chefs end up saddled with their own selection of the worst). At the end, the surviving amateurs should be fractionally less incompetent than they were to start with, whereupon they face the traditional Faking/Cooking It pass-yourself-off-as-a-pro challenge.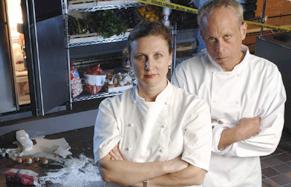 Angela and John attempt the "intense" look.
Not hugely original, but watchable all the same. And notice we haven't done the clichéd recipe-style review like everyone else. We rock!
Champion
Harjinder Chaggar
Theme music
Ultraviolet
Merchandise
First Crack Your Egg: Learn to Cook With "Kitchen Criminals" (hardback book)
Feedback