Pwy 'Di Bos y Gegin?!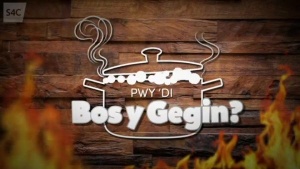 Host
Rhydian Bowen Phillips and Lois Cernyw
Co-hosts
Huw Morgan and Bethan Stevens (judges)
Broadcast
Rondo Media for S4C, 12 June to 17 July 2018 (6 episodes in 1 series)
Synopsis
Three families compete for the chance to win a holiday by cooking a tasty three course meal against the clock.
Families of four take part, each has a nominated "boss" who is in charge of their cooking. The team "boss" has extra responsibilities - they will present the team's food to the judges, and will serve penalties incurred by the team. Penalties? If the team need to raid the pantry once they've started cooking, or break the kitchen's strict safety rules, the boss will sit down for a minute.
The best in each heat return for the semi-finals, where the boss takes a masterclass from professional cooks. For the grand final, the boss's masterclass is a solo challenge, counting to the result. The series winners get a trip to Barcelona.
We like it when the team captain has extra responsibilities. It's enough to distinguish Pwy 'Di Bos y Gegin?! from BBC2's recent The Big Family Cooking Showdown. We wonder if the semi-final format might work as standalone episodes, combining the fun of the mass kitchen with the specialist challenge for the team's leader.
Trivia
The title translates as Who's the boss of the kitchen?!.
Web links
See also
Feedback