The Exclusives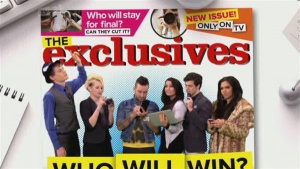 Host
Voiceover: Lauren Laverne
Broadcast
Twofour for ITV2, 17 May to 28 June 2012 (7 episodes in 1 series)
Synopsis
Six reporters are given an on-the-job interview at various magazines, with television cameras following their every move.
If you can help us to expand this entry, please provide as much information as possible, using the feedback form below.
Champion
Ellie Henman
Theme music
Mike Westergaard
Web links
The show publicised an official site, http://www.itv.com/exclusives/ This site has since been deleted.
See also
Feedback