Weaver's Week 2012-06-24
Last week | Weaver's Week Index | Next week
Bong! David Cameron calls Jimmy Carr "morally wrong". Bong! Jimmy Carr says, "Hello, Mr. Kettle." Bong! Organisers of The Voice UK tour "worried about crowd invasion". Bong! Victoria Coren said, "Minds so packed with facts they make Wikipedia look like a random splurge of rumour and guesswork. Which it is." Bong!

BBC Alba, Spring 2012
Or, purely to set up a thread through the reviews, "Have I Got Gaelic Words for You".
We have a host – Hugh Dan MacLennan – and we have two teams of two. Over the next 30 minutes, they're going to do some things for our entertainment. And that doesn't include looking vaguely like someone from a sitcom we half-remember from the early 90s.
BBC Alba doesn't have a huge budget. In fact, this programme looks like it's been made with the cash they saved when Anne Robinson declined a leaving party earlier this year: there are some knick-knacks on shelves behind the teams, making it look a bit like a Blue Peter set. And there are some coloured lights, a different one for each round. But that's it.
However, it's not the size of the cheque, it's what they do with it that counts. In the sample episode we saw, round one was the "which word is real" game. The teams propose two newish words, complete with a definition and examples of how it's used in everyday Gaelic conversation. But one of these words is completely made up. Points are awarded if the other side can work out which is the real word, and which is a complete load of bobbins.
Back in the 1990s, HRH Sir Rolf Harris reminded us that sometimes, words have two meanings*. Like "bought". Round two is the "new meanings" game: Gaelic is a living language, and words are capable of being extended, of taking on novel themes. It also amends existing words, tweaking them just enough to ensure they're distinctive and can't be confused. Our host will give a word that has had some changes lately, and the teams are to determine what it means. Points for good answers.
The "missing words" round comes next, and our guest publication this week is the Big Book of Gaelic Proverbs. The first part of a proverb is given, with the teams challenged to complete it. Points for right answers, fewer points for close approximations, or entertainingly wrong ones.
Finally, the "unusual orthography" round. The host shows a book from his callow youth, Gaelic for the Landed Gentry, who were most interested in hunting and fishing. The host shows the teams some phrases, and asks them to translate them into English. However, these aren't written in the orthodox Gaelic spellings, but in a way that makes them easier for the 1% to understand. To use an example in English and French, it's as if the caption were "Ci? De M", and the host expecting the response "Voir? Le jambon!"
If that sounds like hard work, that's because it is. Aibisidh is a language game in a language we don't speak. We're not even going to attempt to discuss how well (or otherwise) it tests Gaelic knowledge, because that's something we don't know.
Humour penetrates the language barrier, and it's clear that the show has a lightness of touch. Even the title is a pun – it's pronounced as "ABC-y". There are jokes and laughter throughout, scores are totted up on an abacus, and the buzzers? They're not buzzers, they're jackumfilisters. Obviously.
And can they get away with suggesting that someone who tells a lot of fibs is a "balachoir"? Think they did.

Two Four for ITV2, 17 May – 28 June
Take six neophyte journalists, and give them work experience with a large magazine company. Film their work, and put it out on one of the big digital channels. Tweak the truth slightly, so that we can call the show: "Have They Got News For Us".
Not quite, all the work experience is being done at weekly magazines. So we're going to be treated to the newcomers going to the ROPRA Music Awards, interviewing Charlie Simpson's Eyebrows, and making photo-features with the likes of Chantelle from Kandyfloss. You remember, they were briefly bigger than Lady Sovereign.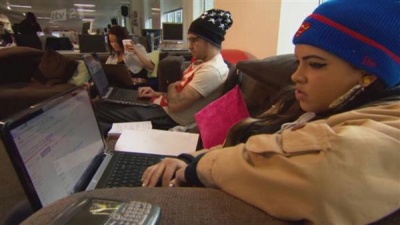 Being about trendy young things, the Game Show Hat panel was watching closely. This would prove to be an error.
Anyway, all of this is clearly being done for the benefit of the youngsters, so that they can learn and develop their skills, before going off and doing something useful for the rest of their lives. And if you believe that, might we interest you in tickets for The Voice's live tour?
No, this programme is clearly and transparently a promotional exercise for the magazine publisher. So blatant is the commercial bias that there's a refreshing honesty – no one pretends this is anything other than an opportunity to push seven magazines on national telly, and for six workers to air their wares.
Mostly, The Exclusives drifts along in its own little bubble of babble. In the grand scheme of things, no-one needs to know that a minor sportsman was once overtaken by his own guinea-pig, but it's a darned funny story. It's not necessary to hear the opinions of some C-list actor promoting his new film, but someone should ask him, just in case he says something interesting. (SPOILER: He doesn't.)
But occasionally, we had a "what the ..?" moment. One such came when the "mentor" (Exclusives-speak for "judge") had a word with a "rookie" (or, "contestant"). She said, "The most important thing is the reader." This is hogwash. The most important thing is the advertiser.
Magazines like these exist solely to get people to read commercials. They can be the utterly obvious display commercials. Or they can be more subtle adverts, extolling the virtues of a particular product, like a band, or a film, or a minor celebrity. It all gets very incestuous very quickly, and neither ITV nor the sponsoring magazine company want their readers to think about this sort of thing. No, don't think about this, not when you could be watching ITV and seeing Peter Andrex in a sumo suit.
Each week's show fell into a similar routine. The contenders would be given tasks to do, articles to write and photographs to take, and they'd be judged by the journalists already employed. They would promote the values that helped the company and were closest to the magazine's established practice.
As the series went on, the aspiring journalists were given more demanding tasks. They weren't just fed interviews with Phillip Schofield, they had to go out and find stars of similar calibre, or the always-available Amy Childs. The journos didn't just write their articles, they took a hand in the page layout, learning to compose and set type and tell their q from their p. There wasn't an elimination every week, because seven shows and six contenders doesn't lend itself to that: instead, the removals were at ordained times, and everyone got three weeks on the show.
We found "The Exclusives" to be a bit wrong, and we can't quite put our finger on why. The presentation and shot direction was to the standard we've come to expect from ITV2 reality shows: functional, not exceptional. Lauren Laverne's voiceover was professional and affectionately snarky, without ever telling us anything we didn't already know. It's probably the subject matter that left us cold: you wouldn't know it from this programme, but there is more to life than red carpets and new albums and water-cooler telly and Jedwards' hair.

Two Four for Channel 4, 13 June – 4 July
Hello new continuity announcer type person! Is that a Channel 4 voice you're using? Could well be.
The titles of A Short History of Everything Else clearly set out its stall. There's a game of Pong, people with punk haircuts, photos of former British prime minister Mrs. Margaret Thatcher. And some pictures that weren't in the Backdate titles, too. Host for the entertainment is Griff Rhys Jones, with resident captains Marcus Brigstocke and Charlie Baker.
After a quick preview of some of the clips coming up on the show, Griff powers into round one, "What was the year?" To establish the year, he shows some clips from that particular year – George Galloway tearing into Jeremy Paxman, Charles Windsor and Elton John getting married (not, we must add, to each other). There are follow-up questions, something about each of the clips, and the quiz proceeds at a fair old clip.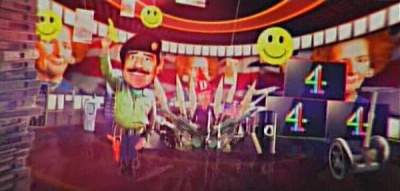 A still from the title sequence, with Sadaam Hussein, smiley faces, Mrs. Margaret Thatcher, generations of mobile phones, some nuclear weapons, VHS cassettes, Channel 4's original logo, a Segway, and a not-very-cuddly toy.
At the end of the round, Griff gives the scores... actually, no, he doesn't. Griff says which team is in the lead, and the scores are displayed by captions. Anyway, then we're into round two, which begins with some archive clippage, and leads into more general questions.
Now, as a comedy panel game, A Short History of Everything Else is a bit different. It's a half-hour programme on a commercial channel, which means it's gone in 23 minutes. The jokes come along at a breakneck speed, and there's a clear link between the questions Griff asks and the points he awards. Far too many other comedy panel games last longer than they ought, or have long periods where people are standing around laughing, or award points in a slightly arbitrary manner, or forget that the point of a comedy show is to actually be funny.
As we discussed recently, adding archive material to a quiz may result in a programme somewhat less than the sum of its parts. Short History tries to avoid that trap, by using slightly more obscure footage, and asking questions that aren't obvious. Swampy was the road protester, but where was he demonstrating? Exeter? Newbury? Oh, yes, a town that didn't so much need a by-pass as a burn-down. When done well, it tests the memory and the chuckle muscle. Or they could show that moment when Eamonn Holmes used Sarah Cawood as a human shield, that's always worth seeing. (This one. Can we get a job researching this show?)
We noticed that Griff never announces the scores, and the programme moves along as though fuelled by kerosene. There's a reason: the shows have been remorselessly chopped down. Originally commissioned as six hour-long programmes, Channel 4 is transmitting four half-hour shows. Were the recordings so bad that two of them had to be junked? Or was there a change of heart after that taping?
So we've got footage that hasn't been seen since it was first made, two panels of two, a host in the middle, and what is obviously BBC Generic Panel Show Set #3. Basically, they're in competition with Dave, and making new episodes of Have I Got A Bit More Old News For You. How can we prove this? A round on Wednesday's show was about Boris Johnson.
This Week And Next
When – or if – they come to make the second series of A Short History of Everything Else, they might include "Draw Something". The precise details of this pastime have been forgotten in the mists of time, but it might have been an effort to convey words across language barriers through the medium of doodle. Archaeologists have run tests on the residue, they indicate that "Draw Something" was popular during March 2012, and had a half-life of about nine days.
We recall this piece of ephemera because one of the television networks in North America has shown it really has its finger on the pulse, and has commissioned a television show based on "Draw Something". Competitors will be given something to draw, and if they succeed so that someone else can guess, they'll win, and if they don't, they'll lose. It's not yet clear if the Wednesday edition will feature waistcoats, nor if it will be hosted by Lord Dannybaker of Deptford.
Still with things transatlantic, congrats to Cat Deeley, named best reality show host at the Critics' Choice award, for her work on So You Think... You Can Dance. The best reality show itself went to The Voice of Holland Us.
Our favourite Texan (currently exiled in California) told us about ABC's new programme. "There's a 'new' summer reality show competing with Big Brother called The Glass House. You know how with Big Brother Us, the audience doesn't vote people out of the house, the houseguests vote each other out? Well, on The Glass House, the viewers vote people off. so basically it's BB UK with a different name." It's a summer replacement for Dancing With the Stars, their equivalent of Strictly Come Dancing.
And then we heard of a press release. It was blocked to the locality. Geoblocking press releases? Have they got Louise Bagshawe running their media department or something? The headline is:
"CBS announces development of Dancing On the Stars, an exciting and completely original reality program that owes its concept and execution to nobody at all."
And reading on, we learn,
"The dazzling new show, Dancing On the Stars, will be broadcast live from the Hollywood Forever Cemetery, and will feature moderately famous and sort of well-known people you almost recognize competing for big prizes by dancing on the graves of some of Hollywood's most iconic and well-beloved stars of stage and screen."
A CBS spokesperson is quoted.
"'This very creative enterprise will bring a new sense of energy and fun that's totally unlike anything anywhere else, honest,' said a CBS spokesperson, who also revealed that the company has been working with a secret team for several months on the creation of the series, which was completely developed by the people at CBS independent of any other programming on the air. After all, people who live in glass houses shouldn't throw stones.'"
Speaking for ourselves, this column thinks it's a brilliant idea, and CBS should do a lot more of this sort of thing. This press release is more funny than anything CBS Comedy has commissioned since Charles In Charge.
Time to put on our Clive Warren mask with the latest news from the pop music singles chart. Buoyed up by the huge sales for winner Leonora Wotserface, the record company behind The Voice of Holland UK shoved out new singles by all of the finalists last week. While Cheryl Tweedy from Popstars: The Rivals was always going to be number 1, and "Euphoria" remains top 20, hopes were high that Tyler James would make the top ten. Well, another top twenty single. Mmm, he'd at least get played on the top 40.
And he did. At 4.04, because his version of the breadmaker's song "Bake me a higher loaf" came crashing in at number 39, behind a mere one Justin Bieber song. Vince Kidd was "Like a virgin" at number 97, Bo Bruce "Running up that hill" at number 69, former Eurovision contender Jon Lilygreen (Cyprus '10) came in at 66, and Max Milner put "Free falling" to number 63. And speaking of free falling, Lotsavotes Thingummy was conspicuous by her absence from the top 100.
More good news for music fans, with news that The Voice concert tour has met with unprecedented levels of demand. Such has been the speed of ticket sales that the shows have been cancelled. They won't happen. They're disappearing into the distance faster than Justin Bieber fans at a punk convention. Customers are advised to contact their point of sale for further advice, and will be compensated with a refund or a centre spread in one of Bauer's magazines.
And even more good news for music fans from the Eurovision Song Contest. Remember how the BBC thought Englebert would be very popular with the juries? He came last, even behind The Jedwards. Were the final to be decided purely by televotes, France would have failed to trouble the scoreboard. Whichever way, Sweden still won, which should surprise no-one.
Ratings in the week to 10 June, then. 15.3m for The Diamond Jubilee Concert, featuring stars of The Voice and Gary Barlobe. 8.4m for some men kicking around a football, and 6.25m for the Carriage Grand National, at which Alistair Stewart fell at the first, and the Red Arrows cheated by not running on the ground.
All of this conceals a lack of game shows – Have I Got News for You led on 5.4m viewers, with Big Brother coming second, 2.95m saw the opening show. Great British Menu finishes in bronze position, 2.3m saw the final. Come Dine with Me was Channel 4's biggest, 1.5m, and there were no hit game shows on ITV, so no change there. Hello to Marco Pierre White's Kitchen Wars, 980,000 to Channel 5, where 870,000 saw Bit on the Side.
A League Of Their Own Sky1 was the biggest new channel show, 685,000 saw the highlights. Come Dine with Me brought 475,000 to More4, and unusually the biggest audience was on Wednesday not Sunday. QIXL on Dave attracted 340,000.
Can you tell it's sport season? A new series of I'm Sorry I Haven't a Clue (Radio 4, 6.30 Mon), national airings of The Guessing Game (Radio 4Xtra, 9.30am Thu), The Exhibitionists appears to be competitive art (BBC2 Wales, 10pm Wed), and there's a new run of The Bachelor (C5, 10pm Fri). Highlight for Saturday is the return of Secret Fortune (BBC1, 8.20); we might also be interested in Mad Mad World (ITV, 10.20), which looks like HIGNFY without the news and without Boris and with Paddy McGuinness, so we might not be interested.
To have Weaver's Week emailed to you on publication day, receive our exclusive TV roundup of the game shows in the week ahead, and chat to other ukgameshows.com readers, sign up to our Yahoo! Group.