The Bachelor
Host
Jeremy Milnes (2003-5)
Hugo Speer (Voiceover: 2011-2)
Mark Wright (2019)
Broadcast
BBC Bristol for BBC Three, 30 March 2003 to 13 February 2005 (21 episodes in 3 series)
Ricochet for Channel 5, 19 August 2011 to 31 August 2012 (20 episodes in 2 series)
Ricochet for Channel 5, 4 to 14 March 2019 (9 episodes in 1 series)
Synopsis
Twenty five women live together, vying for the affections of a single man. Over several weeks, during which the participants go on dates, and meet each others friends and parents, amongst other tasks, the field is whittled down by the single man. At the end of the series, the single man must then decide which of the remaining women he would like to date after the cameras stop rolling.
The Bachelors were:
2003 David Donald
2004 Jamie Williams
2005 Anthony Thomas
2011 Gavin Henson
2012 Spencer Matthews
2019 Alex Marks
If you can help us to expand this entry, please provide as much information as possible, using the feedback form below.
Champions
2003 had no series final, and therefore no overall champion
2004 Jodi Plumb
2005 Lindsay Mann
2011 Carianne Barrow
2012 Khloe Evans
2019 Alicia Oates
Inventor
Based on the US format of the same name, as was Mr Right.
Web links
Pictures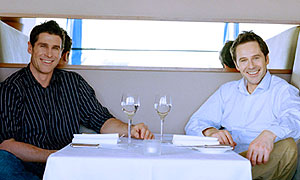 Don't know who these people are, but we're guessing they're bachelors.
Feedback