Anne Robinson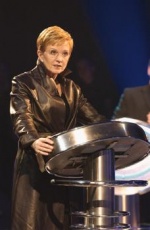 Biography
Anne Robinson was born on 26 September 1944 in Merseyside. After working for Rediffusion, she rose up the journalism ladder working on the Daily Mail, Sunday Times and Daily Mirror. It was at the Mirror where she was to make her mark, being assistant editor throughout the 80s and early 90s, and becoming a notable columnist in several papers.
Her other notable non-game show appearances included presenting for BBC Radio 2 and the consumer-affairs programme Watchdog from 1993 to 2000 and 2009 to 2015.
She used to live in the Gloucestershire countryside with John Penrose, her agent and husband. They divorced in 1994 and remarried in the same year, before splitting again in 2007.
Trivia
Her trademark wink was developed when, in 1987, the director of right-to-reply show Points of View asked her not to wink. She subsequently winked at the end of every programme.
Books / Tapes
Diary of an Unfit Mother (autobiography)
Contact
c/o Tracey Chapman, CSS Stellar Management, Drury House, 34-43 Russell Street, London, WC2B 5HA
Web links
Feedback