Food Glorious Food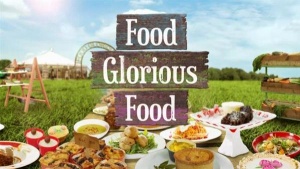 Host
Co-hosts
Judges: Tom Parker Bowles, Loyd Grossman, Anne Harrison, Stacie Stewart
Broadcast
Optomen and SyCo for ITV, 27 February to 24 April 2013 (9 episodes in 1 series)
Synopsis
One great recipe. One outstanding dish. One piece of food to tantalise the palate and energise the mouth. Amateur chefs submitted their morsels of excellence, and told the story lying behind that creation.
Each judge was responsible for a sketchily-defined category:
Tom Parker Bowles, a recipe "with culinary heritage"
Loyd Grossman, something "to match the curry"
Anne Harrison, "traditional home cooking"
Stacie Stewart, "a cake or pudding the country will love"
They each selected one dish for the regional final, and agreed on an area winner. The semi-finals tested mass-production, making 150 copies of the dish for a group serving, with one from each semi going to the final, and being put on sale in a leading grocery from Leeds. The winner was given £20,000.
If you can help us to expand this entry, please provide as much information as possible, using the feedback form below.
Champion
A white chicken korma entered by Rahila Hussain.
The UKGameshows Curry Department tried the dish and said, "It was good, spicy but not spicy to blow your head off. The green chilli does give it that kick. Only drawback, doesn't come with rice. Shame about the price [£4] as I would have it again."
Theme music
Banks & Wag
Merchandise
Web links
Wikipedia entry (caution: contains spoilers)
The show publicised the hashtag #fgf.
See also
Feedback