Andi Oliver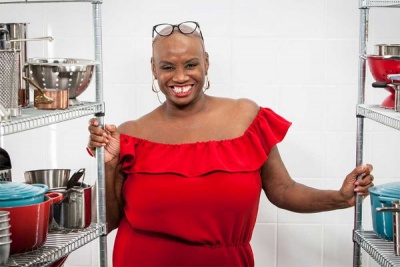 Biography
Singer-turned-foodie who got her first taste of fame in the early 1980s when, aged 16, she joined her brother Sean as second vocalist in the cult post-punk-reggae-jazz-funk group Rip, Rig + Panic (their lead vocalist being Neneh Cherry - and the two are still best friends to this day). From the 1990s she moved in a more culinary direction, leading to the opening of her Stoke Newington restaurant, Andi's Wadadli Kitchen, and a starring role on Great British Menu.
Trivia
If you'd like to see her in action with Rip Rig + Panic, seek out The Young Ones episode "Interesting" in which they perform their single "You're My Kind Of Climate" with Oliver on lead vocals (Cherry, who sang on the record, was on leave at the time following the birth of her first daughter).
She is the mother of sometime Popworld host, Miquita Oliver.
Web links
Feedback