Danny Baker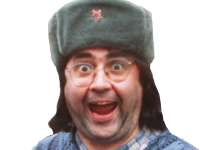 Biography
Through-and-through cockney, who can talk off the whole donkey, never mind the back legs.
Much of his output, particularly his radio shows, are based on anecdotes from the public, about topics as diverse and as trivial as "Serving Suggestions" on packets and finding "Tall Old People".
His motor-mouth style has found favour with perking up the game shows Win, Lose or Draw and later Pets Win Prizes, which were never the same after other presenters took over in both cases.
Trivia
Refusing to kowtow to radio play-lists, he brings in his own CDs to play on his programmes.
He used to claim that he'd once played football with Bob Marley and even that he caused the injury that triggered the cancer which Marley would die from a few years later. However, in his 2012 autobiography he admitted the whole story was a fabrication - although he did play in an informal New Musical Express team against whichever visiting rockstars were up for a game, he never met Marley on the pitch.
Books / Tapes
Danny Baker's Fabulous World of Freak Football (video)
Danny Baker's Right Hammerings (video)
Contact
c/o Noel Gay Management, 19 Denmark Street, London, W2CH 8NA
Web links
Feedback